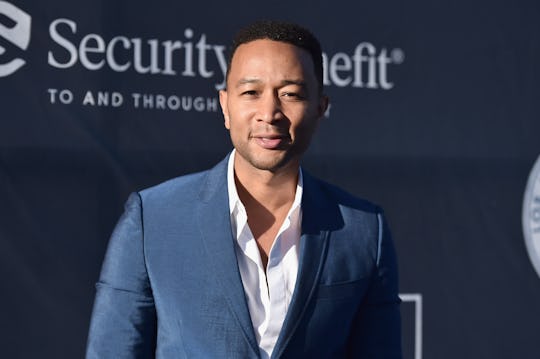 Alberto E. Rodriguez/Getty Images Entertainment/Getty Images
John Legend Gets Real About How Life Is Different With Two Kids, & It's Totally On Point
At the Los Angeles Dodgers Foundation Blue Diamond gala at Dodgers Stadium on Monday, singer John Legend revealed that he and his wife, model Chrissy Teigen, are not spending as much time together lately — but don't worry, it's not as bad as you may think. John Legend got real about how life is different with two kids, and how the celebrity parents sometimes have to split up to handle both little ones in their brood. And his words will probably seem pretty familiar to any parent who has had to adjust after bringing a new baby home.
Legend and Teigen welcomed their second child on May 16 — a baby boy named Miles Theodore Stephens (Stephens is Legend's legal last name). And since then, Teigen has been pretty open about life with their new baby, and she's always been forthcoming about motherhood in general. It seems like every day Teigen shares some funny anecdote about life as a mom and wife on Twitter. I guess they don't call her the queen of the internet or queen of Twitter for nothing.
But while Legend may share a story here or there, he hasn't been quite as vocal as his wife about life with his son or about the juggling it takes to parent two kids. But he got very real about both those things on Monday, in a quick, candid interview with Us Weekly.
Legend explained that when it comes to parenting two little ones, it's all about divide and conquer. He told Us Weekly:
When Chrissy's breast-feeding, I'm out playing with Luna in the yard. The idea of splitting up is a little different than what we had before. But it's good to have two of us there to handle the two of them.
And plenty of parents can probably relate to that feeling. The more hands on deck, the better.
Despite spending more time apart when they each work on paying attention to one kid at a time, Legend said he and Teigen are actually closer than ever. He said, according to Us Weekly:
It made us more of a team, even more so than we were before. When you have a joint project like this, raising kids together, I think for us, it's brought us closer together.
Which is a super sweet sentiment. Sometimes parents are so stressed out by the addition of a new baby and all the time and responsibility devoted to that, it can be difficult to want or be able to make time for each other. But it sounds like Legend and Teigen have no problem staying connected.
Teigen and Legend's first child is a 2-year-old daughter named Luna Simone, according to SheKnows. Teigen shares photos, videos, and stories about her all the time with her fans and followers on social media. And as Miles grows up, he's probably in for the same thing. The little guy is already a bit of a celebrity, and he's not even a month old yet.
And speaking of being little, Legend also noted on Monday that Miles is "so tiny," and that he's definitely noticed how different Luna looks now compared to when she was born, so he expects the same for his son. "So we'll give him time to grow into his face," Legend told Us Weekly.
In fact, one of the very first things Teigen revealed publicly about her son is just how small he was at birth. Not long after Miles was born, a fan asked Teigen on Twitter whether he looked like his big sister, and she responded, according to Vogue:
Same nose! He is a few weeks early so he's litttttttle and makes the teeniest noises. We are in love.
Since Miles came a little early, he's considered a preemie, and Teigen tweeted once about how "nothing fits my teenie preemie," according to TODAY. Which is yet another feeling a lot of parents out there can probably relate to — preemie shopping is just a little more difficult, even if you're a famous model, apparently.
But it sounds like Miles is super healthy, and that Legend and Teigen are totally loving being parents to two kids, with all the changes that entails.