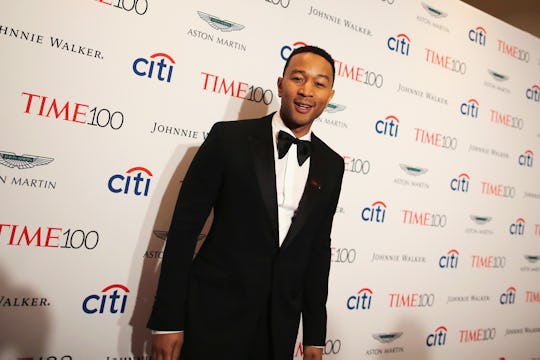 Jemal Countess/Getty Images Entertainment/Getty Images
John Legend Opens Up About Touring With A Baby
Being a touring musician seems like a hard job. Between spending long nights on the road, being in a different city each day, and having an unpredictable schedule, the life of a musician is not as pretty as it seems. Being a parent and a touring musician is perhaps even more rough. Singer John Legend, for example — father to 1-year-old Luna with wife Chrissy Teigen — is about to hit the road with his whole family. So when Legend jokes about fatherhood and touring with a baby to People, you know that he's emotionally and mentally preparing himself for the challenge.
Legend, recently named one of the most influential people by TIME, is about to head out on tour this upcoming May — hitting 35 locations in the United States and giving fans the opportunity to hear him sing all of his greatest hits in person. Yet, Legend is going take his parenting show on the road with him as well. Legend revealed a few more details about this on Wednesday, telling People how excited he was for this new opportunity:
I'm excited that we're in this position where we can bring [Luna] on tour this summer and late spring so that'll be fun. I'm in a position where we can make things happen to make sure she's around us as much as possible.
Legend continued, talking about how tour life will have "quite a different vibe," with a baby on the bus, stating that there would be "diapers on the bus, a crib on the bus — a long way from my bachelor days." While cribs and diapers are a far cry from single life, trading in bottles of alcohol for bottles of breast milk in the freezer is definitely worth it for the musician. And little Luna is so cute and seems like such a sweet baby that it makes it all even more worth it.
When Legend first announced the tour on his Facebook page, he wrote,
The awesome part about this tour is that my family is coming along. This'll be Luna's first tour. She'll be there, so I won't have to spend a lot of time away from my family. That's the subtitle of the tour: Darkness And Light Tour: Luna's First Tour.
It's absolutely awesome that Legend can bring his family along with him on tour, allowing him to spend so much time with them and be there for any important milestones in Luna's life while doing what he loves at the same time. But while it is Luna's first tour, it probably won't be her last. At just 1 year old, Luna has already had two featured roles in a music video (she starred in Fergie's "M.I.L.F.$." as a newborn and Legend's video for the song "Love Me Now") — so hitting the road with her dad for the rest of her young life doesn't seem like that much of a stretch.
Luna Legend is already living out the dreams of plenty of wannabe rockstars. And, it seems, her dad is more than happy to accommodate.