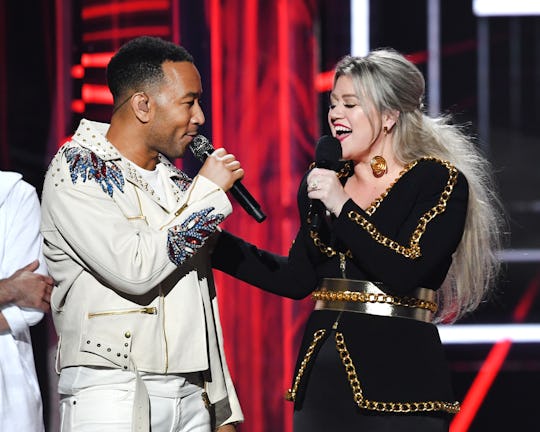 Kevin Winter/Getty Images Entertainment/Getty Images
John Legend Updates Eyebrow-Raising Lyrics In "Baby, It's Cold Outside" Makeover
In the 75 years that have passed since it was written, the lyrics to "Baby, It's Cold Outside" have easily made it one of the most hotly debated holiday tunes. Last year, in fact, a number of radio stations went so far as to ban the catchy tune from their airwaves amid a flurry of #MeToo-inspired discussion regarding its intended message. But now, some of America's most well known singers, songwriters is hoping to give the 1944 classic something of a makeover. Indeed, John Legend and Kelly Clarkson's "Baby, It's Cold Outside" will include updated lyrics meant to make the tune sound less creepy and more cool.
In a recent interview with Vanity Fair, Legend revealed he'd sat down with actor and comedian Natasha Rothwell to rewrite the lyrics to Frank Loesser's "Baby, It's Cold Outside" for his upcoming holiday album, "A Legendary Christmas." According to the magazine, Legend has recorded his unique version of the song with fellow The Voice judge and coach Kelly Clarkson.
Traditionally sung as a duet, the original lyrics to "Baby, It's Cold Outside" have long inspired debate about what's really happening in the story being told through the song. As one of the song's singers sings lyrics such as, "I really can't stay," "Say what's in this drink?" and "The answer is no," the other party responds with lines like, "Mind if I move in closer?" "what's the sense in hurtin' my pride?" and "gosh your lips look delicious."
While some have argued that the song details a potential date rape, others, like comedian Jen Kirkman, have argued that the song has a more feminist tint. Kirkman has argued that, when taken in context of time it was written, "Baby, It's Cold Outside" becomes a story about a woman denied the right to indulge in her sexual yearnings prior to marriage by stiff societal norms.
While the full version of Legend's take on "Baby, It's Cold Outside" isn't expected to be available until closer to Christmas, the musician played a bit of the song for Vanity Fair and allowed the magazine to tease a few of his and Rothwell's re-imagined lyrics in their recent cover story.
"What will my friends think..." Vanity Fair reported Clarkson sings in place of the original song's "The neighbors might think..." lyric.
"I think they should rejoice," Legend reportedly sings in response.
"...if I have one more drink?" Clarkson finishes.
"It's your body, and your choice," Legend concludes.
And for anyone worried that tinkering with the lyrics may have ruined "Baby, It's Cold Outside," Vanity Fair's Karen Valby noted that Legend's re-written version feels "every bit as fun and swinging as the original." What's more, Valby claimed Legend's version offers "newfound sensitivity" that "feels genuine, not performative."
On Monday, Rothwell celebrated the news of her collaboration with Legend on Twitter by asking her followers if anyone had a time machine. "I'd like to go back in time and tell my younger-self something right quick," she tweeted, adding the hashtags #stillpinchingmyself and #dreamscometrue.
You can pre-order "A Legendary Christmas" through Legend's official website.