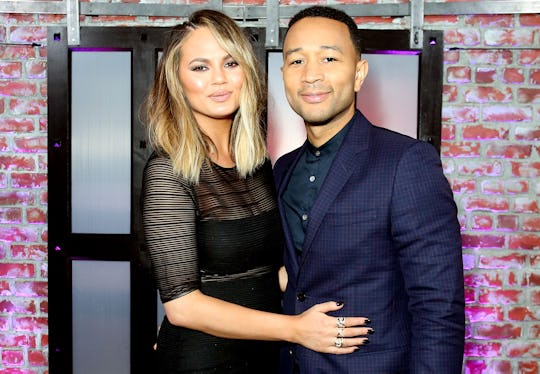 Rachel Murray/Getty Images Entertainment/Getty Images
John Legend Opens Up About Fatherhood & 6 Other Times His Love For Luna Was Adorable
Social media feeds around the world have been better ever since Chrissy Teigen and John Legend welcomed their beyond adorable baby girl, Luna, to the world. The proud parents often share cuddling snaps, sweet posts, and gush about their bundle of joy in interviews. And again, on Saturday, John Legend opened up about fatherhood and how Luna has inspired him to do more good for the world.
The singer told People that he's always wanted to use his fame to do good and now that he has Luna in his life, he has even more of a reason to do his part to make the world a better place.
Ahead of the launch of the Belvedere(RED) campaign, Legend said in the interview with People he's "always wanted to give back but [being a father] just gives you even more reason to want the world to be a better place because you want the world to be better for your kids than it was for you."
He added, "I think it's been great for me but if we can make it even better for Luna that'd be great."
Legend joined the campaign as an ambassador to spread awareness about AIDS/HIV and 50 percent of the profits from its special edition (RED) bottles will be contributed to the efforts.
As if this latest interview and all of his prior posts on Instagram and Snapchat weren't enough to convince you of his love for his little 4-month-old daughter, here are six other times the proud dad couldn't help but show his incredible bond with Luna to the world and making it better place while doing so.
When he showed the world how he likes to spend his Sundays
When he gushed over the two main ladies in his life
When he showed off Luna's incredible fashion
When he took Luna to her first baseball game
When he introduced little Luna to her grandparents
And, finally, when he was simply mesmerized by his beautiful baby girl
The adorably happy couple welcomed Luna, their first child, back in April and ever since then, the doting dad clearly hasn't been able to get enough of his baby girl. Not only has the world world taken notice, but Luna's gorgeous and hilarious mom has also gushed about their special father-daughter bond.
"He's so good with her," Teigen told E! News in July. "He's her world and it's just really cute to see because they have this strong bond...she comes to me, she wants boob, she wants food and she looks at me and she giggles and she laughs. When she looks at him, it's like these dreamy, weird, different eyes and it's so sweet to see."
She added, "I think there's no relationship like a father-daughter relationship."