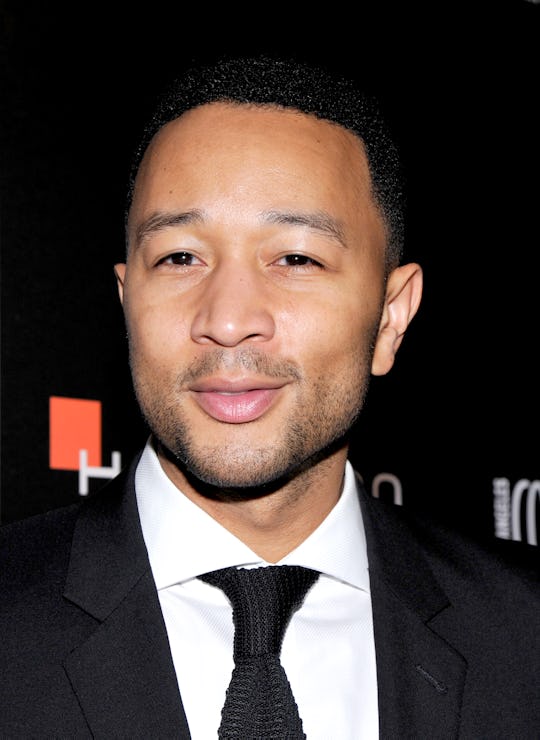 John Sciulli/Getty Images Entertainment/Getty Images
John Legend & Sesame Street Characters Send Baby Luna Lots Of Love
John Legend's upcoming appearance on Sesame Street won't be his first, but it's definitely going to be his sweetest. On Tuesday, Legend posted a behind-the-scenes "hello" that's already made his baby momma, and every single person who saw it, swoon. An Instagram video posted to both Teigen and Legend's accounts shows Legend and the Sesame Street characters sending lots of love to his daughter, Luna. "One day Luna will be very excited by who daddy hung out with today," Legend appropriately captioned his video.
Teigen, posting the video to her own timeline, gushed, writing: "My heart!! I could cry. I cannot wait for the day Luna goes absolutely nuts over this. Thank you, thank you Sesame Street!!" It's true — what kid wouldn't totally lose it after seeing her dad alongside big time stars like Elmo, Cookie Monster, and Big Bird?
In the near five decades that Sesame Street has been on the air, many celebrities have been featured, including James Earl Jones, Johnny Cash, and Lupita Nyong'o. Legend first appeared on Sesame Street back in 2006 for a feature in which he played piano and sang an adorable song with Hoots the Owl (featuring a Hoots saxophone solo, of course). Legend was as kind, fun to watch, and as talented as ever, so here's hoping that his forthcoming episode provides more of the same.
Watch the short video below, filled with well wishes and ending with a kiss from Luna's dad:
Luna appears to be informing lots of Legend's career choices lately. In Legend's new album, Darkness and Light, he wrote a song for his firstborn, called "Right By You (for Luna)." By Essence's estimations, the song's about "the apprehension parents feel about the world their children grow up, the ups and downs they'll face, and the hope that, as parents, you've done the best to prepare them for what's to come." His heartfelt lyrics certainly echo this:
And even when it all becomes too much / When you're growing old and feeling out of touch / Listen to this song and just take care / And know that I will be there... / Little girl, I'm cryin'
No, we're cryin'. Legend's Sesame Street appearance. if the behind the scenes video is any indication, will be truly love-filled. Since Luna's just 8 months old right now, Teigen and Legend will have to wait a bit before the big reveal. Maybe they'll put it on Instagram, too, in a sweet little side-by-side.