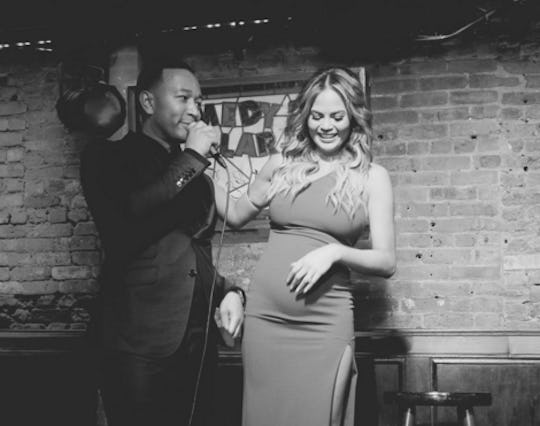 DJDNice/Instagram
John Legend Threw Chrissy Teigen A 30th Birthday Party & It Was Every Bit As Awesome As You'd Expect
Nothing says "I love you," quite like throwing an epic party for your significant other, complete with absolute delish food, killer music, and tons of celeb guests on the invite list. And that's exactly what one of our favorite R&B crooners did for his wife this weekend, in the sweetest way possible. On Saturday, John Legend threw Chrissy Teigen a 30th birthday party, according to Vulture, and (because it's John Legend) it was the celebration to end all celebrations. But are we really all that surprised? These two are totally winning at life these days, so of course they're killing it at throwing parties for each other, too.
Though Teigen's official birthday is Nov. 30, that didn't stop Legend from holding the pre-bday bash at New York City's Comedy Cellar on Nov. 28 and going all out. And I mean all out. As if renting out space in the iconic New York spot wasn't enough, Legend went one step further and had famed restaurant Momofuku cater the night, DJ D-Nice run the music, and — this is by far the best part — even wrangled a stand-up set performed by comedy legend Dave Chappelle. I repeat: Dave Chappelle. Legend then reportedly serenaded his pregnant wife with a pretty special rendition of "Happy Birthday." (I mean, let's be honest, that alone would make your heart melt right into a puddle.)
There was no question that guests were feeling the positive vibes going 'round for the model's birthday bash. "Last night, my bro Dave Chappelle was the surprise performer at @chrissyteigen's bday celebration.@johnlegend only wanted the best for his wife," DJ D-Nice wrote on his Instagram. Snapping photos in addition to spinning records, D-Nice ended the night by Instagramming a shot of the loving couple and writing: "Happy Birthday @chrissyteigen! @johnlegend, thanks for allowing me to Dj the celebration. The room was full of love. @hassanksmith you're the best!"
Mmmm... that menu, though.
Yep, it's safe to say that Teigen had the best birthday ever. And totally appreciated every single moment.
Happy Birthday, Chrissy!
Image: DJDNice/Instagram