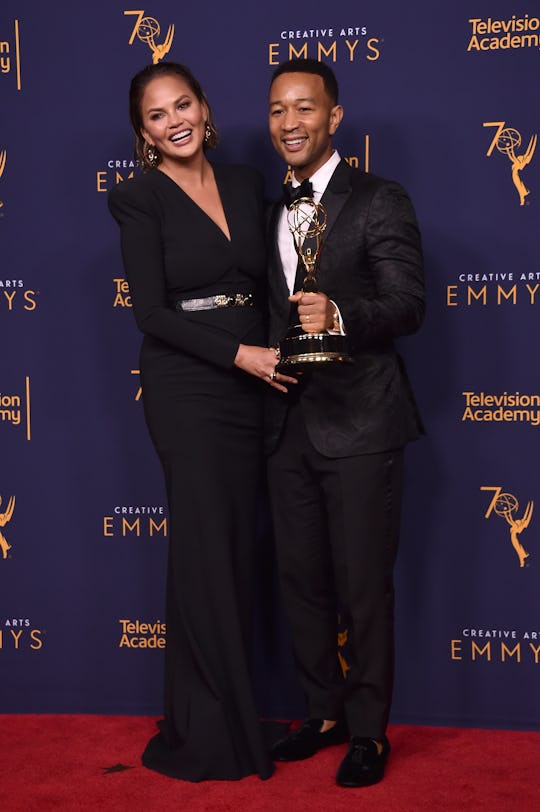 Alberto E. Rodriguez/Getty Images Entertainment/Getty Images
Chrissy Teigen Shared The Sweetest Video Following John Legend's EGOT Win
It isn't exactly difficult to figure out that singer John Legend is seriously talented. And on Sunday night, Legend won an Emmy for his work in Jesus Christ Superstar, joining an elite group of people who have won an Emmy, a Grammy, an Oscar, and a Tony Award, according to The Guardian. If that wasn't enough, Legend also became the first black man and one of the youngest people to ever land an EGOT. And it's clear his wife was beyond proud, too. On Instagram Sunday, Chrissy Teigen had the sweetest reaction to John Legend landing EGOT status, and it's why they're basically the cutest couple ever.
Teigen may be a bonafide expert at roasting Legend on social media — keeping him humble, obvi — but this time she couldn't help but gush over her husband's accomplishment. Teigen commemorated Legend's big win in a series of posts, including one in which she called Legend and his fellow JCS producer winners, Andrew Lloyd Webber and Tim Rice, "EGOT GOATS," and another in which she referred to Legend as "[her] incredible man," before adding, "what a surreal life." So sure, Teigen likes to poke fun at her person on the regular, but when it comes to supporting his dreams and his career goals, obviously there's no one more passionate in his corner and by his side.
But her most touching post was actually a video, where she captured Legend — still tuxedo-clad — climbing up onto a piano bench to place his newly-acquired Emmy on the top shelf of a wall already full of other awards. And though it might seem like, at this point, the novelty of adding new trophies to his collection could have easily worn off long ago, it's clear in the clip that his win still felt incredibly meaningful.
After placing his Emmy in between two of his Grammy awards, Legend stepped back to admire his accomplishment, and he looked pretty awe-struck. As for Teigen? She filmed the moment in silence, but noted at the end of the clip that the Emmy looked "perfect" in its new home. But, since she's still Chrissy Teigen, she couldn't pass up a small opportunity to take a tiny swipe at her husband's expense: in the caption, she quipped, "And I say hey, what a wonderful kind of day" — just to remind him that, EGOT or not, he still totally looks like Arthur.
Although Legend was clearly proud to have won, he did admit that becoming an EGOT winner wasn't exactly something he'd ever expected. The singer told Entertainment Tonight that that the honor felt "kind of surreal," and said,
It's something I never even thought about when I started my career. I probably wanted to win some Grammys and sell a lot of records, and all that started happening pretty quickly. But I never dreamed that I would be here, winning an Emmy, and being in that rare group of people that have won all four of these major [awards].
Teigen and Legend are #RelationshipGoals for a variety of reasons, but the way they constantly support one another and celebrate one another's accomplishments is easily at the top of the list.
He also explained to ET that Teigen was actually meant to be taping Lip Sync Battle at the same time as the Emmys, but that she'd "convinced her producers to push the second show back so she could come here in between shows and see if we would win this EGOT."
What that meant though, was that Teigen had to return to filming duties pretty much immediately following her husband's big win — a detail she documented in her Instagram Story later that day. And it doesn't look like they were down for any major celeb celebrations either: when the couple finally returned home that night, Teigen filmed Legend making pancakes while dressed in a bathrobe.
Come to think of it, though, capping off one of the biggest achievements of your professional life by eating homemade pancakes in your bathrobe actually sounds pretty fantastic. And honestly? Given that Legend and Teigen could have easily spent the evening drinking champagne and partying with Hollywood elites, the fact that they instead decided to go home and eat late-night pancakes together is pretty much exactly why they will forever be #relationshipgoals.