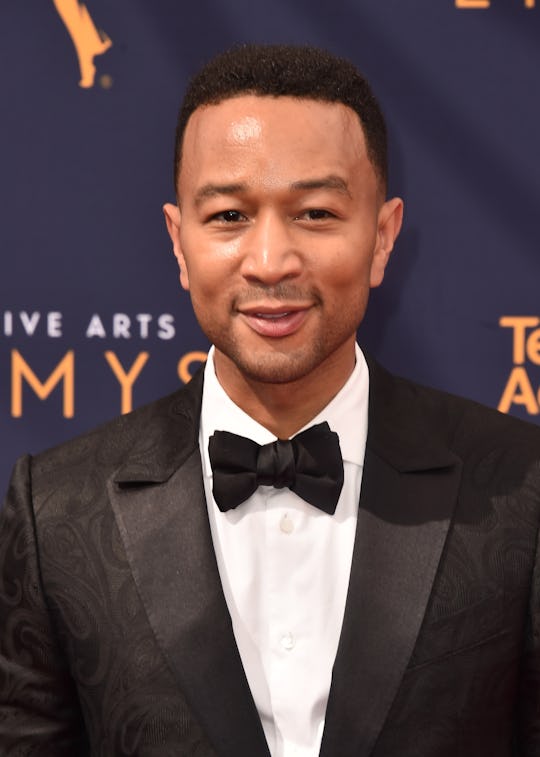 Alberto E. Rodriguez/Getty Images Entertainment/Getty Images
John Legend's Baby Picture Side-By-Side With Baby Miles Is Peak Twinning
When you decide to reproduce, you more or less go in with the understanding that your DNA will be merging with your partner's and recreating itself into an entirely new life, and yet, all the logistical understanding in the world doesn't make it any less incredible to see a baby that looks exactly like one of their parents. For example, John Legend's baby picture side-by-side with baby Miles is absolutely uncanny. It's clear that they are truly two peas in a pod, as many commenters have already pointed out.
Us Weekly reported that early on Thursday morning, Legend posted a photo to his Instagram account of an old baby photo of his edited beneath a photo of his son, Miles, whom he shares with wife Chrissy Teigen. In both photos, the babies are laying on their stomachs and looking up at the camera, and even resting on a similar looking blanket. "Miles inherited my love for lying on mustard colored blankets," Legend joked in the caption.
Immediately, fans began to point out the similarities, discussing not only how much Miles looks like his dad, but also that Legend hasn't really changed much since he was an infant. "Carbon copy of his dad, John Legend," one comment read. "Miles name should of been John II cause he is literally you omg, that's so cute," said another.
This is not the first time that people have pointed out the similarities between father and son. Back in July, W reported that Teigen uploaded a video of Miles laughing and playing. Almost immediately, the comments were flooded with well wishes, as well as many fans and followers pointing out how uncanny the two really are.
Though Legend and Teigen have remained busy through welcoming their brood of children (Legend just won an Emmy and achieved EGOT status, The Tribune reported, so NBD) but he always prioritizes his family first. As he told Esquire in June: "I think most friends of mine that are dads want to be good dads. We all want to be as present and helpful as possible, and I've gotten a lot of advice on that. But really, it's just deciding you want to be present in your family—and a constant reinforcement of that."
He continued, explaining that it's all about keeping your priorities straight, and making sure you know what you really value in life. "Being a dad is about setting your priorities in the right place, listening to your partner and paying attention to what they might need. It's not letting work or outside distractions take away from those moments," he said. "You can read all the books you want and get all the advice you want, but the key is doing it with intention and mindfulness."
Later in the same month, Legend opened up to Entertainment Tonight to talk about how life has changed since he and Teigen welcomed their second child. "It's a new challenge. It takes a little bit more logistical planning and we kind of split off where I take Luna and Chrissy takes Miles," he said. "But I think when you have a good partner, it makes it easier to do it."
Back in 2016, Legend opened up about being more selective about when he leaves his family. "I am tougher with my manager," he told ET. "Every time they want me to take a trip somewhere I am like, 'Do I really need to go there?' I would rather be at home as much as I can, but obviously you have to travel sometimes for work, so we just try to make it work whenever I leave."
It's clear that Legend is as much of a talented and committed father as he is a performer. Fortunately, fans get to see him be a master at both.