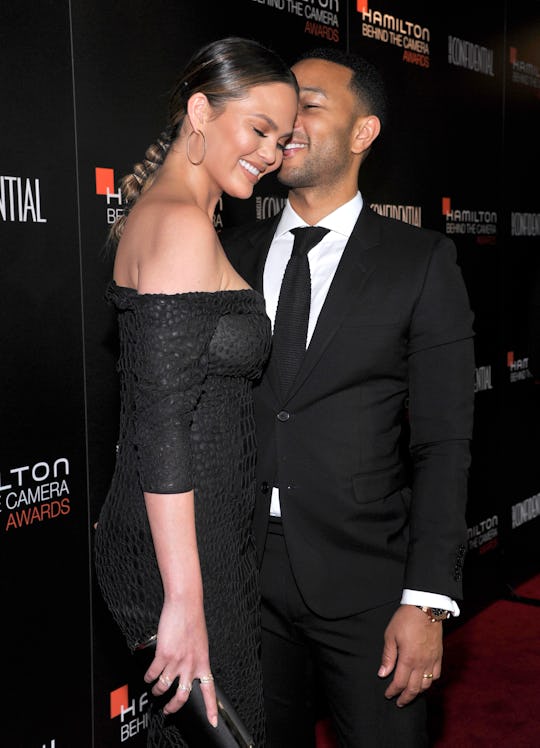 John Sciulli/Getty Images Entertainment/Getty Images
John Legend's Birthday Tribute To Chrissy Teigen On Instagram Is Relationship Goals
John Legend and Chrissy Teigen share a love that is magnetic, real, and just too cute. The two continue to light each other up years after their relationship commenced, and after their baby, Luna, was born. Recently, Legend came to his wife's aid during a wardrobe malfunction at the American Music Awards, and serenaded her in his music video, "Love Me Now." After hearing the lyrics and watching that video, I wanted to be reincarnated into Chrissy just so I, too, could be loved by him. So, unsurprisingly, John Legend's birthday tribute to Chrissy Teigen on Instagram is yet another relationship goal set by the paramours.
Happy birthday to my queen. You are beautiful, bright, funny, passionate and so inspiring. Your presence makes my life and our world so much better. I LOVE YOU!
Legend captioned an image of his multitalented wife looking beautiful with a floral decoration on her hand (as one does on their birthday).
The "All Of Me" singer is doing everything right. In a society where hookups have become mainstream, and relationships are practically shamed, this couple reminds us all that love is beautiful, and worthwhile. Legend celebrates his partner, Chrissy, instead of hiding her. He refers to her as "[his] queen" and calls her "bright" and "so inspiring" in his message. Legend is obviously just as in love with her mind, as he is her physical features. This is made apparent by Legend's photo choice...you don't see Chrissy in a bikini. Instead, the five-time grammy winner presents his beloved wife in a portrait.
In the image, you see Chrissy through John's eyes: beautiful, timeless and classy. He is obviously so completely in love with her, and is it crazy that I feel #blessed to be along for the ride, watching in the wings, as the two celebrate their lives together?
Legend posted an additional photo of his wife with the words "Happy Birthday Chrissy" written in sand. That's not something that you do with a stick while laying in a beach chair.
The two enjoy every moment together, whether it be eating KFC in bed, or attending the Golden Globes hand in hand. The little, quiet moments mean just as much to them as the big ones, if not more, as fans see on Instagram almost every single day.
So when it comes to true love, we should all take notes from these talented love birds. And when your loved one's special day rolls around, remember to express your feelings about him or her, and maybe learn some sand art? Either way, you've got to respect that these two keep it so real all the time. What is not to love about that type of a relationship?