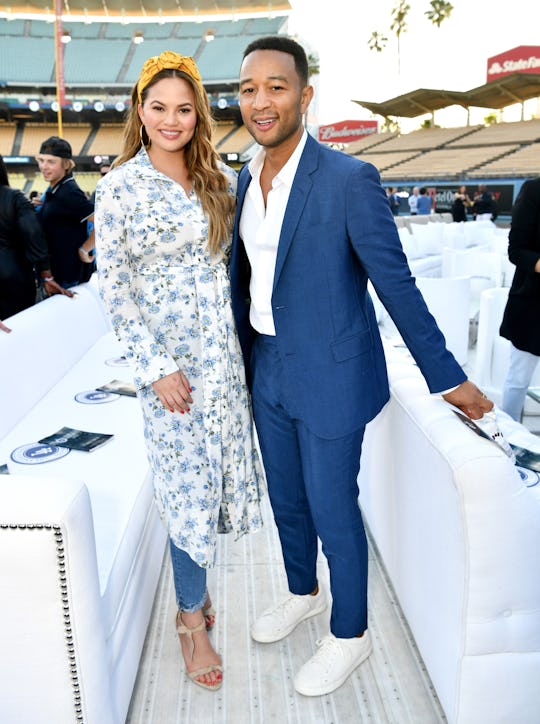 Emma McIntyre/Getty Images Entertainment/Getty Images
John Legend Posted A Photo Of Chrissy Teigen Pumping For Father's Day, & It's Dad Goals
Going on a date night as parents is pretty different from your pre-baby days. For one, "date nights" before kids aren't even really a thing — you can basically just go out whenever you want to because you don't have to worry about things like booking babysitters, or being so tired that you could both easily fall asleep before 9 p.m. And as John Legend's Father's Day Instagram of Chrissy Teigen pumping shows, even when you're all dolled up and ready for a romantic night out, having kids means you still might have to figure out a way to stealthily express breast milk in your car. But honestly? The fact that he's legitimately impressed enough to lovingly post about it on social media proves that Legend and Teigen basically have post-baby romance down.
Like many women, Teigen took to Instagram Sunday to share a sweet tribute to her husband for Father's Day, according to People, praising him not just for being a great dad to their two children, but for also being her "best friend and partner always, [and] the most loving and generous and kind human in the world." It was a touching moment for the couple, who already happens to be the reason why many of us still believe in true love. But later that day, Legend posted an adorable Instagram photo of his own showing his wife pumping in the car before heading out for their dinner date, and wrote, "I know it's Father's Day and all but my wife is pretty awesome. She's taking me to dinner but still on mommy duty."
I'll admit that, before I had kids myself, I probably wouldn't have understood just how sweet Legend's post really is. But now, as someone who knows exactly how unglamorous it really feels to be attached to a human milking machine, I can't really think of anything more loving.
Being a breastfeeding mama isn't always easy, but it's obvious from this photo — and from Legend's caption — that he's completely supportive, and that he has so much respect for his wife for being the one to literally feed their child with her body. Not only does he think it through, he actually posts about it to Instagram. And, judging by their expressions in the pic, it also seems pretty clear that, even amid the chaos of having two young children together, they're still able to have fun, and remember how much they love each other.
Of course, just like any other couple, Legend and Teigen have said they have their ups and downs: in August 2017, he told Cosmopolitan he didn't think anyone had a "perfect relationship," including them. But, it's also pretty difficult to think of any celeb couple that seems more deserving of being the world's blueprint for an ideal marriage — especially when it comes to couples who are also parents. For one, they speak so highly of one another: while Teigen praised Legend's love and dedication in her Father's Day tribute to him, Legend recently told TODAY Parents that, actually, he didn't really think fathers deserved as much credit as mothers do, and said,
I don't think Father's Day needs to be a big deal, but it's nice to feel appreciated a little. I do think Mother's Day is a bigger deal because — let's face it — being a mom is harder.
Although I doubt that Teigen — or any other mom, for that matter — would feel like it's ever a competition to be the parent more deserving of applause, Legend's words no doubt felt pretty validating. Because no matter how much you enjoy being a mom, it really is hard. And having your partner recognize that is a reminder not only that they see it, but that they appreciate it, too.
Even though pumping breast milk in your car before going out to dinner with your husband can be pretty awkward, Legend's Instagram post sharing the photo was a seriously sweet reminder that even the funny or awkward moments can still be romantic. And although there's really nothing that can likely make that experience truly enjoyable, knowing that your partner loves you and appreciates you as a wife and mother would definitely make it feel much easier.