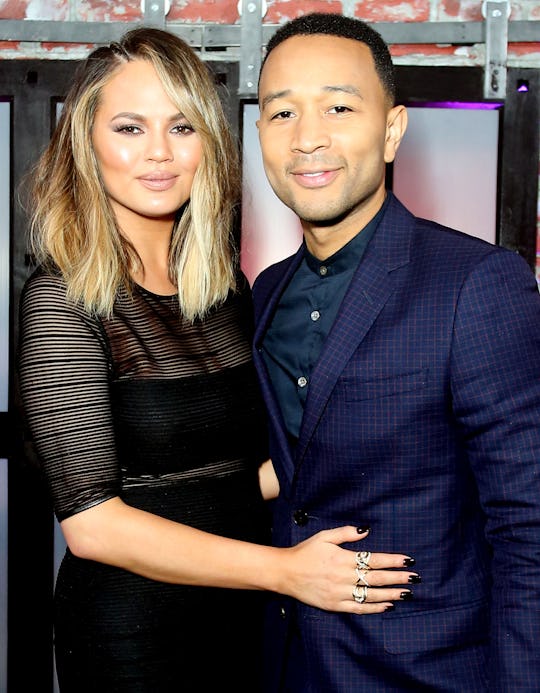 Rachel Murray/Getty Images Entertainment/Getty Images
John Legend's Latest Luna Photo Will Make Everything Better
At three months old, Luna Simone Stephens is already a legend, just like her parents — John Legend and Chrissy Teigen. Fans of Teigen and Legend can't get enough of the adorable baby who practically has a fanbase of her own by now. Luna is super cute and she looks exactly like a perfect mix of both of her gorgeous parents — which is why, in light of all the terrible things happening lately, Legend's latest Luna photo will make everything better (if only temporarily).
It's not like this photo is any different from the other photos of Luna — they're all so frickin' cute and will definitely make your day. Take this recent photo of Luna from Teigen's Snapchat of Luna wearing the most adorable crochet bikini and matching mermaid tail. Or this picture posted to Teigen's Instagram account of the whole family at an L.A. Dodgers game. Basically, every photo of Luna is absolutely perfect — but that's beside the point.
On Sunday, Legend posted the newest photo of him and Luna to his Instagram account. In the picture, the father daughter duo look so incredibly cozy — with Legend wearing his robe and Luna in her onesie. Legend holds Luna in his arms and looks at her so dotingly. The photo's caption? "Sunday morning with my LuLu." So. Sweet!!!!
In a recent interview with E! News, Teigen admitted that their daughter has a more unique bond with her father, telling the outlet:
He's so good with her. He's her world and it's just really cute to see because they have this strong bond...she comes to me, she wants boob, she wants food and she looks at me and she giggles and she laughs. When she looks at him, it's like these dreamy, weird, different eyes and it's so sweet to see. I think there's no relationship like a father-daughter relationship.
I'm with Luna — whenever I listen to John Legend's music, I get dreamy eyed too. I mean, how could you not? Those dreamy eyes from both parties are so apparent in Legend's latest Instagram post with his daughter. You can practically feel their bond through your computer screen.
Meanwhile Luna has already made her first appearance on film — Luna and Teigen had roles in Fergie's mom empowering music video for the song "M.I.L.F.$" — which debuted two weeks ago. In the music video, Luna is pictured breastfeeding while her mom looks into the camera. "Obviously, Luna is in it. But they closed down the set because Luna was so new," Teigen told People. "She was maybe 4 weeks old. They turned off the air. They cleared people out. And it was her natural lunch time anyway."
When Luna isn't making appearances in music videos, she is cuddling up and hanging out her very cool father and posing for adorable Instagram photos. You know — just the normal day in the life of an average 3-month-old.