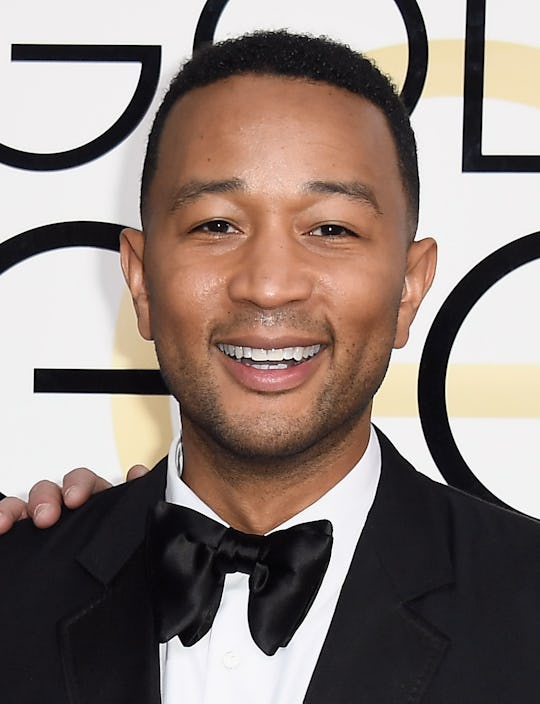 Frazer Harrison/Getty Images Entertainment/Getty Images
John Legend's Name Was Spelled Wrong At The Globes
The 74th annual Golden Globes got off to a rocky start on Sunday night, as the teleprompter failed just as host Jimmy Fallon took the stage for his first gig as Golden Globes host. And apparently, the hits keep coming: John Legend's name was spelled wrong at the Golden Globes. Wife Chrissy Teigen totally outed the spelling error on her Twitter feed, posting a photo of a clearly miffed and slightly confused Legend holding up his misspelled place card. Twitter lit up after Teigen posted the photo, with plenty of people calling out the Hollywood Foreign Press Association and the Golden Globes for the spelling gaffe.
It's not like Legend's name is terribly difficult to spell in the first place — and yet somehow someone managed to botch the 38-year-old musician's name. The place card wasn't typed: The Golden Globes is a classy affair folks. But if it had been, perhaps spellchecker might have caught the error. The place card was written in lovely calligraphy and it's obvious someone took the time to write Legend's name with swooping flourishes in black calligraphy ink. Yet they somehow managed to add an errant letter D that didn't belong.
Ladies and gentlemen, meet John "Ledgend."
Woops!
I'm not sure which is funnier: The fact that Legend's name was misspelled, or that his wife totally called him a "loser" on Twitter. Can we just take a moment to gush over the fact that Legend and Teigen are probably one of the realest celebrity couples ever?
At least for Legend, the spelling mistake on his name isn't so permanent; he can always just toss his place card in the trash. But spelling must not be the Golden Globes's forte, as this isn't the first time it has misspelled a prominent star's name. Jon Hamm's name was misspelled on his actual Golden Globe statuette from 2008. Speaking to Vanity Fair last year, Hamm had to make an awkward call, saying, "Guys, there's no H" when his Golden Globe award read "John Hamm" instead of Jon Hamm.
In a world where spellchecker has basically unlearned our basic spelling skills, the mistake seems innocent enough, right? It's not a terribly difficult last name to spell either. Even so, you'd think that when you're THE debut awards show of Hollywood's awards season, maybe you'd check things like whether or not the teleprompter's working, of that you've spelled all the names of your A-list guests correctly on their place cards.