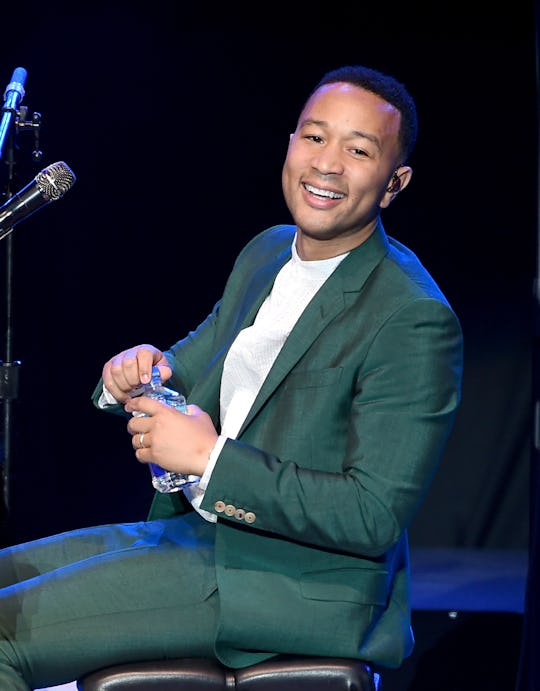 Kevin Winter/Getty Images Entertainment/Getty Images
John Legend's Newest Photo Of Luna Shows Her Meeting Her Grandmother For The First Time
The world can't get enough of John Legend and Chrissy Teigen's infant daughter, Luna Simone, but it's probably pretty safe to assume that it pales in comparison to what Legend's own mother, Phyllis Stephens, was feeling when she finally got to hold her granddaughter for the first time. In an Instagram post Tuesday, John Legend's newest photo of Luna shows her meeting her grandmother, and it couldn't possibly be any sweeter. In the photo, Stephens can be seen smiling proudly while holding the sleeping baby, and, in the photo's caption, Legend shared that Luna is her ninth grandchild. Judging by another one of Legend's photos, it seemed like the visit was full of grandmotherly love from both sides — he also posted a photo of himself, Teigen, and both their mothers with presumptive Democratic presidential nominee, Hillary Clinton (no big deal!).
While neither Teigen nor Legend mentioned whether Luna was there to meet Clinton, there's no question that she's already had her fair share of admiration from her parents' families and famous friends. According to People, Legend's grandmother flew from Ohio to visit with her great-granddaughter a week ago, and not long before that, Teigen posted a clip on Snapchat showing Luna meeting her "auntie" Kim Kardashian and her husband, Kayne West, according to Us Weekly.
Unlike some celeb parents, who choose to keep their children out of the spotlight, Teigen and Legend have been happy to share their baby joy with fans, documenting Teigen's pregnancy on social media, and sharing some seriously cute moments since Luna's arrival. After giving birth to Luna on April 14, Teigen posted a birth announcement photo on her Instagram account, showing a monitor with the newborn's weight (6 pounds, 11 ounces). But it wasn't long after that that fans got their first glimpse of the baby, in a Instagram snap showing Teigen outside cuddling her new daughter.
For Teigen's very first Mother's Day on May 8, Legend posted a too-sweet photo of Luna in a hand-decorated onesie that said "Happy 1st Mother's Day," along with a gushing caption that read,
To my wonderful wife, @chrissyteigen. Luna and I are so lucky to have you in our lives. If our daughter can be even half as awesome as you, I will be so happy and proud. Happy 1st Mother's Day!
Legend also posted a sweet photo of the new family of three with his look-alike grandmother during her visit with the couple, captioning it, "family."
For fans of the couple (is it possible to not be a fan of Teigen and Legend??), all of the social media love and regular adorable baby updates are pretty much the best ever. I mean, it was already fun to watch Legend and Teigen's total #relationshipgoals love play out in romantic and often hilarious photos and tweets, but now that they have a beautiful little girl to show off? It's made all of their posts that much more swoon-worthy.