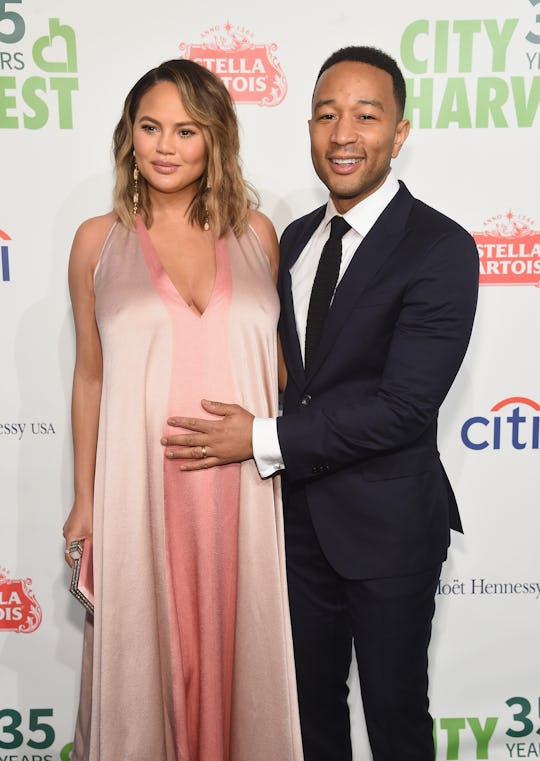 Jamie McCarthy/Getty Images Entertainment/Getty Images
John Legend's Response To Chrissy Teigen Giving Birth Is Pretty Cute
Chrissy Teigen and John Legend have officially welcomed their second child, according to a cute tweet from Teigen sent late Wednesday night, local time. Teigen tweeted "Somebody's herrrrrrre!," using a baby bottle and the emoji doing what look like jazz hands. People confirmed the news. John Legend's response to Chrissy Teigen giving birth was equally as excited, though less original.
Outside of Teigen's tweet, the couple did not release any other details about the baby. All we know in addition is that the baby will be a boy, the first sibling and little brother to their first child, Luna, according to People.
Teigen actually roped in baby Luna to help her announce her second pregnancy in November. In an Instagram post she asked, "Luna, what's in here?" Luna responds with "Baby," while revealing her mom's bump, according to CNN. She also added the hilarious caption "it's john's!" Teigen told Entertainment Tonight in January that Luna is so excited about her baby brother, but that she also might be feeling some nervous jealousy: "It's hard though, because she's definitely jealous of John and I. She's so protective of John, and when we kiss, she like, looks [up] from no matter where she is," she said, according to Marie Claire UK.
Then, when Teigen went on the Ellen DeGeneres Show on Feb. 19, she revealed that she was due in June, so she's just a tiny bit early (and I see you Teigen, delivering early and waking me up at 6 a.m. EST). But from her tweet it seems like she and baby are happy and healthy, which is all that really matters.
In response to Chrissy's tweet "reveal," Legend, who is a simple man, just retweeted her. Because why repackage his incredible wife's words when she's said it so well? I feel like that's what John Legend would think.
When Teigen and Legend were trying to decide on a name for their future son, Teigen told DeGeneres that she through in John, naming him after his father. But Legend shut it down, according to US Weekly: "John and his ego was like, 'I don't want him to feel like he has to live up to that,'" Teigen said. "And I was like 'Wow, you are a jerk.'" LOL. Leave it to Chrissy to tell it like it is.
Legend hasn't said much about proposed names or the baby in general, but he has shared that he's just excited for round two of parenthood. In the same Entertainment Tonight interview, Legend said, according to Marie Claire UK:
It's always exciting, because you never know what they're going to be like. You're just excited that another product of your relationship and your love is going to be out there in front of you. We're just excited to see how we're going to be as parents of two, and how Luna is going to be as a big sister. It's going to be really exciting and fun.
D'oh. As for whether they'll have more kids, Teigen would certainly be open to it. She said in an interview with E! News in November, just prior to announcing her second pregnancy, according to People: "We're still trying … I'm going for, I mean hopefully in the next few years, because for me I really want to just knock 'em out." Teigen joked that, "That's my dream, I want to just be pregnant kind of for the rest of my life. Not for the rest of my life, but the rest of my fertile life. So we'll see."
Teigen has joked in the past about wanting as many as possible, but she was also super open about how the two have struggled with infertility on an episode of FABLife, according to US Weekly: "I would say, honestly, [that] John and I were having trouble. We would have had kids five, six years ago if it had happened, but my gosh, it's been a process."
But now, here they are, welcoming a second baby with the help of modern science, and it's clear they couldn't be more excited.