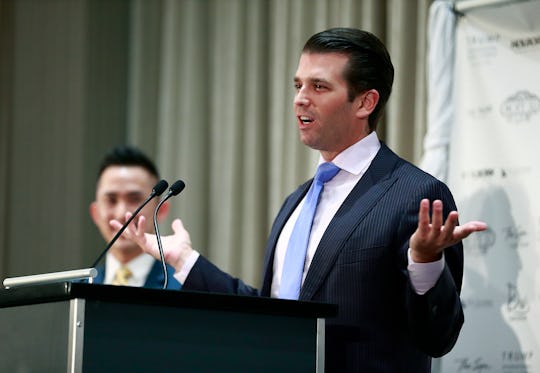 Jeff Vinnick/Getty Images News/Getty Images
John McCain's Trump Jr. Take Is Important
When nothing is normal, it can be hard to speak with confidence. The Trump administration's continuously unprecedented and unpredictable behavior has caused people to argue over the very definitions of right and wrong, but on Tuesday, Arizona Sen. John McCain made a point about Donald Trump Jr. that will be hard to deny. While Trump apologists have long excused the administration's many missteps by pointing out that the president and many members of his team are new to politics and didn't know any better, McCain dismissed the latest iteration.
When asked how his 2008 presidential campaign would have handled an offer of intelligence by a foreign entity, McCain said, "I can assure you the people around me would not be inclined to do that kind of thing, especially not one of my sons. 'Cause my sons — they're in the military. You know, they'd probably be court-martialed." McCain was unsure what laws might apply to civilians, according to The Weekly Standard, but it's getting harder and harder to write off the Trump campaign's many documented meetings with people tied to the Russian government as rookie mistakes, especially since each one has been so vehemently denied right up until incontrovertible proof has been offered. Why cover something up if you didn't realize that it was wrong? Romper has reached out to Trump Jr.'s attorney for comment.
When The New York Times initially contacted the president's eldest son about his June 2016 meeting with "Kremlin-connected Russian lawyer" Natalia Veselnitskaya, he claimed that the topic was international adoption. After learning that the Times would report that Veselnitskaya offered incriminating information on former Secretary of State Hillary Clinton to Trump Jr. — as well as Jared Kushner and Paul Manafort — the president's son admitted as much, while insulating his brother-in-law and the former campaign manager from blame: "I asked Jared and Paul to attend, but told them nothing of the substance." Only after being notified that the Times planned to publish an email chain detailing the meeting did Trump Jr. reveal it himself, "in order to be totally transparent," he noted.
In an accompanying statement, Trump Jr. wrote that he was expecting Veselnitskaya, who "was not a government official," to provide "Political Opposition Research," but ultimately, "she had no information to provide and wanted to talk about adoption policy." He also claims "this occurred before the current Russian fever was in vogue." Indeed, the meeting happened a full five days before the Washington Post revealed that the Russian government hacked the Democratic National Committee's network.
Clinton's former running mate, Virginia Sen. Tim Kaine, told CNN on Tuesday that Trump Jr.'s actions were "beyond obstruction of justice," and amounted to "perjury, false statements and even potentially treason." And while treason is technically more of a wartime crime, campaign finance laws are more broad. Foreign nationals are prohibited from contributing money or any other "thing of value" to an election campaign, and may not "indirectly participate" in "election-related activities." British producer Rob Goldstone, who arranged the meeting between Veselnitskaya and Trump Jr., told the Times that Veselnitskaya's offer turned out to be a "vague, generic statement" about foreign nationals donating to the Clinton campaign, which implies an awareness of such laws. Trump Jr. may not have had the same knowledge, but he's since retained the services of criminal defense attorney Alan Futerfas, who can surely explain everything.