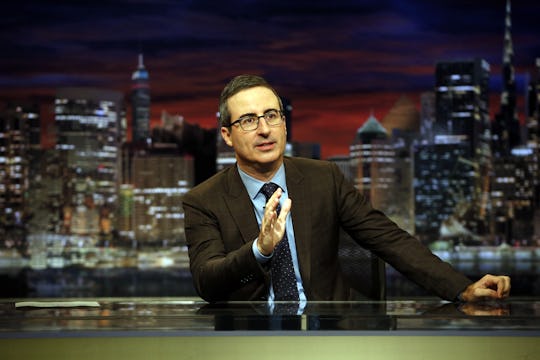 Eric Liebowitz/HBO
John Oliver Addressed Steve Bannon's Firing On 'Last Week Tonight'
Another one bites the dust in the Trump administration, and this time it's in the form of Steven Bannon. So naturally, it was something John Oliver was keen to discuss during his weekly Sunday segment. John Oliver addressed Steve Bannon's firing on Last Week Tonight, just the latest in a string of firings. While this is probably good news, Oliver pointed out that Bannon wasn't the only person in the White House with questionable relationships to white supremacists and Nazi groups.
Before Trump, Bannon was best known as the head of Breitbart News, a news site known for pandering to the "alt-right" — a white nationalist movement. He then became Trump's chief strategist, with many believing him to be the power behind the throne, so to speak. And while yes, it's definitely great that Bannon got fired, following the ousters of chief of staff Reince Preibus, communications director Sean Spicer, and head of the FBI James Comey, to name a few, Oliver pointed out that he's still not the only person in the White House who panders to white supremacists, plainly talking about Donald Trump himself. Oliver also said that Bannon looks like what would happen if Martin Sheen ate nothing but sea salt for a thousand years, which is eerily accurate.
Oliver went on to say that while everyone keeps thinking that this will be a turning point for the administration, we've all heard that one before. We really just keep turning and turning without going anywhere, like "a carousel that will not stop" while "an unstable race-baiting carny is running the controls." Donald Trump would be the race-baiting carny. Of course, this became much more serious following Trump's reaction to the Charlottesville demonstrations run by a group of white supremacists carrying tiki torches, and led to the death of one counter-protester, a woman named Heather Heyer. Trump said that there were decent people on "both sides," which has caused an understandable uproar.
Oliver then pointed out that many Republicans in Congress did unequivocally condemn white supremacy, but didn't mention Trump by name. He argued that this is necessary to make any sort of change. The problem with not mentioning him suggests that he is not a key part of the problem, Oliver said. He went on to say, "In the name of the poet Beyoncé and the other ones: 'Say his name. Say his name.'" Oliver finished the segment by stressing again "Nothing is really going to change in the White House until one more person gets shown the f*cking door." Hear hear.