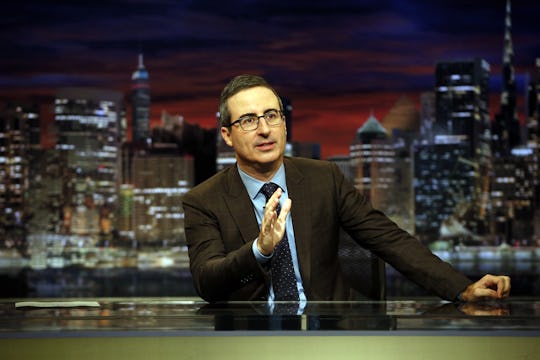 Eric Liebowitz/HBO
John Oliver Addressed The NFL Protests On 'Last Week Tonight'
After making quite the Emmys sweep last weekend, John Oliver addressed the NFL protests on Last Week Tonight right away on his first show back post-awards. It was a difficult story to ignore if you've been on Twitter at all this weekend, helped along, of course, by our esteemed president calling upon NFL owners to fire whatever "son of a b*tch" chose to protest the national anthem at games this weekend.
President Donald Trump said at a rally for Alabama Republican Senator Luther Strange (while decked out in a truly bizarre pink and red candy-striped tie):
Wouldn't you love to see one of these NFL owners, when somebody disrespects our flag, to say, 'Get that son of a b*tch off the field right now. Out! He's fired. He's fired!'
He was referring, of course, to the protest tactic first enacted by Colin Kaepernick, a former San Francisco 49er who is currently unsigned to any NFL team. Last season, Kaepernick began taking a knee or sitting during the national anthem which preceded NFL games in protest of police brutality against black men in America. Kaepernick said in an interview with NFL media at the time:
I am not going to stand up to show pride in a flag for a country that oppresses black people and people of color. To me, this is bigger than football and it would be selfish on my part to look the other way. There are bodies in the street and people getting paid leave and getting away with murder.
Even though Kaepernick isn't playing professionally this year, some of his fellow NFL players from all across the league are following suit. This weekend in particular — presumably in direct response to the president's harsh words — players took to the field arm-in-arm instead of placing their hands on their hearts during the anthem. Some still decided to take a knee, while the Oakland Raiders collectively took a knee and kneeled arm-in-arm.
It was jarring to hear such strong words from a president against NFL players of all people — especially with everything on his plate right now — but Oliver addressed that, too. He joked:
I'm afraid it's true. The president of the United States took time out while, it is worth noting, over three million American citizens in Puerto Rico are without power, to call Colin Kaepernick a son of a b*tch. Kaepernick's own mother, incidentally, responding, 'Guess that makes me a proud bitch.'
He also shouted out this astute take from Buffalo Bills running back Lesean McCoy:
"Even NFL Commissioner Roger Goodell denounced the president's comments," Oliver pointed out. "And when you have lost the moral high ground to Roger f*cking Goodell, something is horribly wrong."
Former NFL coach and current ESPN analyst Rex Ryan, who supported Trump during his campaign, also voiced disappointment with the candidate he himself backed. "I'm pissed off, I'll be honest with you. I supported Donald Trump," he said Sunday on ESPN. "Calling our players SOBs, and that kind of stuff, that's not the men that I know. The men that I know in the locker room I'm proud of, I'm proud to be associated with those people."
Oliver wrapped up the segment with a, uh, spirited clip of Jeanine Pirro (most memorably, the district attorney who lost the murder case against Robert Durst, subject of the HBO documentary The Jinx) on her Fox News show. In it, she foists shame upon Colin Kaepernick with all the gusto of those Game of Thrones nuns.
"You know what, she is right: no one wants to hear about politics from a wildly successful athlete," Oliver concluded. "You only want to hear about them from an abject failure of a prosecutor who somehow let Robert Durst slip through her fingers."
Watch Romper's new video series, Romper's Doula Diaries:
Check out the entire Romper's Doula Diaries series and other videos on Facebook and the Bustle app across Apple TV, Roku, and Amazon Fire TV.