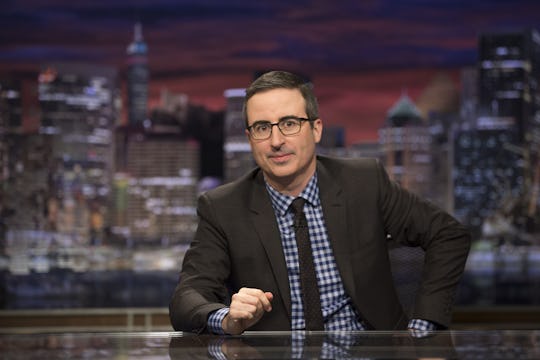 Eric Liebowitz/HBO
John Oliver Had Some Thoughts About Trump's Response To Puerto Rico On 'Last Week Tonight'
Puerto Rico is desperately trying to cope in the aftermath of Hurricane Maria, a slow-moving, Category 5 storm that devastated the island. Over 3 million American citizens are without power, less than half of people on the island have access to clean drinking water, and hospitals are buckling under pressure. But another horrifying part of this story is the president's response to all of this. John Oliver addressed Trump's response to Puerto Rico on Last Week Tonight, which has been erratic for most of the week, veering between self-congratulatory and victim-blaming.
"The loss of life, it's always tragic," President Trump said on CNN, speaking from the White House. "But it's been incredible, the results that we've had with respect to loss of life. People can't believe how successful that has been, relatively speaking."
Yes, Trump bizarrely found a way to brag about "the results we've had with respect to the loss of life," whatever that means, following a natural disaster that has already killed 16 people according to FEMA, while reports from the Center for Investigative Journalism count death tolls in the dozens that could end in the hundreds. It led Oliver to ask incredulously after airing the clip:
How are you even trying to take a victory lap right now? The only way he could have saved that statement is if he added, 'And don't forget, I just kind of ramble. I know nothing. I talk because silence sounds weird. Try and think of me as a parrot who's memorized some human sounds: yabba dabba doo, jumanji, bye-bye!'
Of course, the mayor of San Juan, Carmen Yulín Cruz, was rightfully horrified by Trump's response, and she took a strong, moving stance on behalf of her people.
"I will do what I never thought I was going to do," she said in a tearful, but fierce press conference following Trump's interview on Friday. "I am begging, begging anyone who can hear us to save us from dying. If anybody out there is listening to us, we are dying, and you are killing us with the inefficiency."
It was a bold indictment of the United States' failure to send help to its own people, residing in its own territory, even though we just executed two back-to-back hurricane rescue missions in Houston and Florida following Hurricanes Harvey and Irma. Naturally, Trump responded to criticism with an unhinged, 18-tweet rant on Saturday. He wrote, in part:
The Mayor of San Juan, who was very complimentary only a few days ago, has now been told by the Democrats that you must be nasty to Trump. Such poor leadership ability by the Mayor of San Juan, and others in Puerto Rico, who are not able to get their workers to help. They want everything to be done for them when it should be a community effort. 10,000 Federal workers now on Island doing a fantastic job.
Oliver didn't let the obvious "lazy brown people" dogwhistle slide, especially coming from a president who spent the weekend being waited on hand and foot at his golf course. "Really? Really?" he demanded. "The primary obstacle to hurricane relief has been Puerto Rican laziness?" The host went on to add:
You have got to hand it to Trump. Anyone can say horribly racist things about Hispanic people on a golden escalator, but it takes real balls to do it while their fellow citizens are dying. Trump is basically saying, 'When hurricanes hit our people, they're not hitting out best. They're killing poors, they're killing lazies, and some, I assume, have said nice things about me.'
The president's response isn't particularly surprising to any of us, but hearing the hurt and outrage in Cruz's voice as she's forced to lobby other countries for aid because her own leadership won't step up is heartbreaking nonetheless.
Watch Romper's new video series, Romper's Doula Diaries:
Check out the entire Romper's Doula Diaries series and other videos on Facebook and the Bustle app across Apple TV, Roku, and Amazon Fire TV.