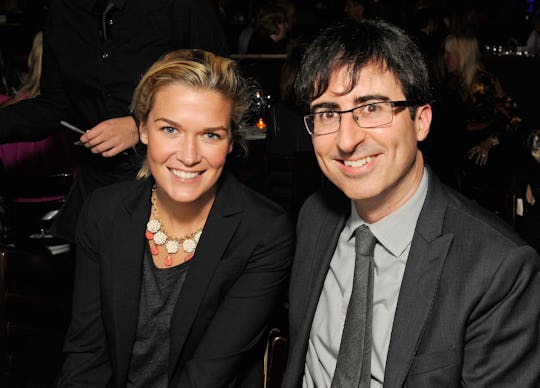 Shawn Ehlers/Getty Images
John Oliver Welcomes Baby Boy With Wife Kate Norley, & Here's Why 'Last Week Tonight' Will Be Even Better Now
As if you needed one more reason to gush over the British comedian and host of Last Week Tonight, you've got one: He's a new dad. The Last Week Tonight host John Oliver welcomed a baby boy with wife Kate Norley Wednesday, making the already charming comedian all the more charming. (British! And a dad! Sigh.)
A rep for HBO confirmed the birth to The Hollywood Reporter. "Everybody is happy and healthy," the rep told TV Guide. The birth of his son already cements an already stellar year for Oliver — On Last Week Tonight, Oliver has advocated to end mental health stigma, fought for LGTBQ rights, and brought attention to noble causes with funny AF wit.
And his other half is just as impressive. Norley, Oliver's wife, is a veteran who served as a medic in the Iraq war. They met when Oliver was covering the Republican National Convention for The Daily Show in 2008 and the two wed in 2011. "I'm incredibly proud of her for everything that she did and has done and is continuing to do and supporting everyone who she has served with," Oliver told the New York Daily News at the 9th Annual Stand Up for Heroes event at Madison Square Garden on Tuesday night.
This is the first child for the couple, though Oliver owns a 3-year-old golden-retriever mix, named Hoagie, who he has said helps him unwind (something he'll likely need to do with a new baby in the house).
And now that he's a parent, it's guaranteed that Last Week Tonight will get even better. Oliver has used his show to support awesome causes that benefit families, like paid maternity leave reform, a buzz-worthy topic in this election year. Oliver has taken issue with the U.S. policy that conditionally provides maternity leave. Women who are eligible include full-time employees or women who have been with a company with over 50 employees for more than one year. In one of his show's episodes, he joked:
What that means is that 40 percent of workers are not covered under the federal law. So if a worker with no paid leave goes into labor at work, she better hope it's on her lunch hour and that her co-workers don't mind if the break room gets a bit messy.
The Twitterverse has already been congratulating the comedian — that is, those who weren't crushed when they discovered that their celeb crush is indeed happily married with a newborn.
But most fans were stoked.
No word yet on Norley and Oliver's baby boy's name, or if he has his dad's sense of humor.
Image: Shawn Ehlers/Getty Images