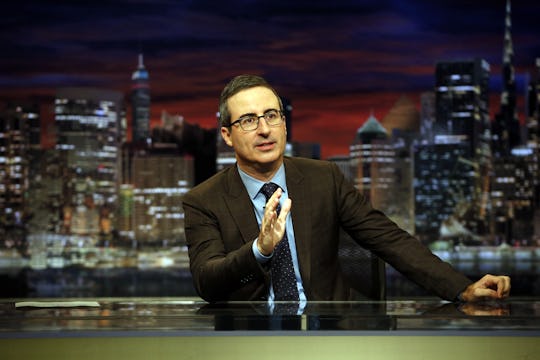 Eric Liebowitz/HBO
John Oliver Addressed The Fate Of DACA On 'Last Week Tonight'
Last week, the Justice Department announced an end to the Deferred Action for Childhood Arrivals (DACA) program, first enacted by President Obama in 2012 as a stop-gap when the Development, Relief and Education for Alien Minors Act (better known as the DREAMers Act) failed to pass in 2010. Under President Trump, however, DACA will end, endangering the 800,000 undocumented immigrants who were brought to the United States as children but allowed to stay with certain benefits like work permits and driver's licenses. John Oliver's DACA segment on Last Week Tonight addressed Trump's bizarre 180 on the issue, which, of course, involved a confusing tweet and a promise of "making people happy" — a phrase Oliver noticed the president is particularly fond of.
On Tuesday, Trump announced that he was ending Obama's landmark immigration policy, making good on his campaign promise to deport DREAMers. "It'll work you so well. You'll be so happy," he told Chuck Todd when explaining that DREAMers will swiftly be deported but that the process for them reentering the country would then be "expedited."
Later the same day, however, he also tweeted that Congress had "six months to legalize DACA (something the Obama Administration was unable to do)," which isn't even accurate. (Obama enacted DACA because the DREAM Act couldn't get passed.)
"Chuck and Nancy would like to see something happen, and so do I," he said the next day, referring to Senate Minority Leader Chuck Schumer and House Minority Leader Nancy Pelosi. "And I said if we can get something to happen, we're gonna sign it, and we're gonna make a lot of happy people."
Then the next day, he tweeted in support of DACA recipients saying they "have nothing to worry about."
Oliver started sensing a pattern:
OK, listen, because this is important: anytime Trump says he's going to make people happy or that you're going to be happy in the future, that means he has got nothing and is trying to end the conversation.
Oliver proved his point by running a series of clips in which Trump made some version of his "making people happy" promise regarding trade policy, border safety, the Middle East, steel tariffs, replacing Obamacare, and infrastructure. "He doesn't just do it with immigration," Oliver insisted. "He does it with everything."
Aside from how totally unnerving it feels to have a president who speaks in, as the Last Week Tonight host put it, "the tone of somebody who forgot to buy an anniversary gift and is stalling for time," he also underscored that words have meaning. Empty promises with no substantive, actionable forces behind them only contribute to the general sense of panic and dread that has been pervasive ever since Trump took office. Oliver concluded:
Laying out a government policy that's just 'you'll be so happy' is like naming a restaurant You're Gonna Be So Full. Okay, that's the goal, but how? What am I filling myself with? Is it Asian Fusion or wet cement?
Unsurprisingly, Trump passed off the task of figuring it out to other governing bodies, so for now it's unclear what the fate of DACA's future really is.