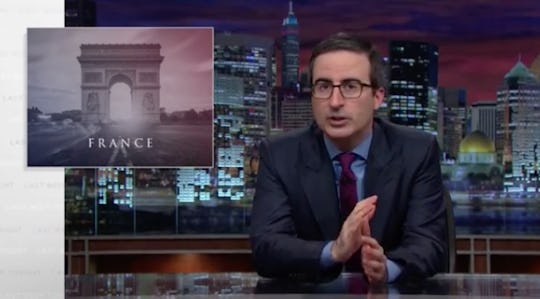 John Oliver's 'Last Week Tonight' Tribute To Paris Says Everything You've Wanted To Say About The Attacks — VIDEO
On Saturday Night Live, cast member Cecily Strong opened up the night's show with a subdued cold open, during which she paid tribute to the victims of the Paris terror attacks by telling them in French and English, "We stand with you." On Last Week Tonight, John Oliver took quite a different approach. Because on the HBO late night program, John Oliver's words on the Paris attacks included, well, words that Strong wouldn't be allowed to deliver on her own program.
It's hardly been 48 hours, and much is still unknown. But there are a few things we can say for certain. And this is when it actually helps to be on HBO, where those things can be say without restraint. Because after the many necessary and appropriate moments of silence, I'd like to offer you a moment of premium cable profanity.
And the man certainly did deliver. Saying what you wish CNN journalists could say on their own programs, Oliver continued:
First, as of now, we know this attack was carried out by gigantic f*cking assholes. Unconscionable, flaming assholes. Possibly, possibly working with other f*cking assholes. Definitely working in service of an ideology of pure assholery.
Watch the video below:
But even though Oliver is certainly correct about the perpetrators of the attack, which killed more than 120 people and wounded 350 more Friday night, nothing rang more true than his closing words on the matter, which proved exactly why terrorists' efforts will never pay off.
Nothing about what these assholes are trying to do is going to work. France is going to endure, and I'll tell you why. If you're in a war of culture and lifestyle with France, good f*cking luck.
Tout à fait!
Image: HBO