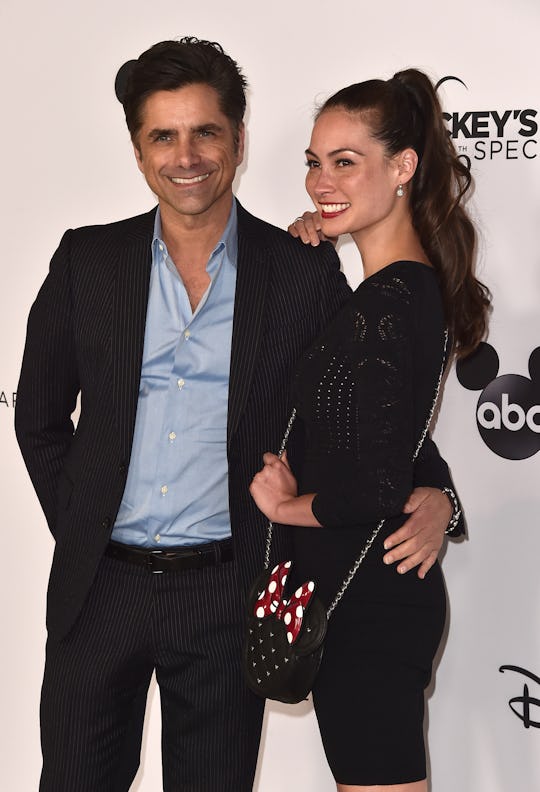 Alberto E. Rodriguez/Getty Images Entertainment/Getty Images
John Stamos & Caitlin McHugh Want Baby No. 2, But One Obstacle's In Their Way
When Fuller House star, John Stamos, became a father for the first time earlier this year, his life changed forever. In April, Stamos and wife, Caitlin McHugh, welcomed their son, Billy, into the world — and now they're ready for another. In a new interview, it was revealed that John Stamos and Caitlin McHugh are trying for another baby (OMG), but there is just one thing that is getting in the way — their son.
During an appearance on Live with Kelly and Ryan on Thursday, Stamos got teary eyed while he was talking about his son, according to People. "I've been waiting my whole life for [fatherhood]," Stamos told the show's hosts, Kelly Ripa and Ryan Seacrest. "I'm so happy, I'm so happy."
With Stamos getting this emotional about his son, it only makes sense that he would want another kid. Because when you have that kind of love, the best thing to do is spread it around. And Stamos knows this to be true, because he revealed during the appearance that he is ready to have another son and he and McHugh are actively trying to have that baby. But there are just a few obstacles that prevent them from doing this.
"We're trying, but, the kid's like a c— block," Stamos said. "Can I say that?"
Stamos told the hosts that trying to have a baby while your kid is well, still a baby, is actually kind of hard. But their persistence to get pregnant is also due to Stamos' age. Stamos said, according to People:
I said, "What's the rush?" She said, "Well, you're old." She said, "I'm doing it for you!" The other day — and I'm not making this story up — she calls [and she's like] "I'm ovulating!" When they're ovulating, boom, you gotta get there.
So, Stamos and McHugh got down to business. But, their son woke up in the middle of them having sex and started crying and playing with his toys in his crib which "ruined the mood." "We were so close," Stamos stated.
Parents are probably familiar with this struggle. Toddlers are known for ruining "the moment" for their parents, according to HuffPost (especially when they barge into their parents rooms begging for a glass of water). There is even a children's book written about how kids need to give their parents some alone time called Nobody Likes A C—block. The book politely explains, in hilarious (and kid friendly) terms, all of the struggles parents go through to have sex and all of the stops that kids will do to prevent it. So Stamos definitely isn't alone in his struggles.
But it makes sense why Stamos and McHugh would be so quick to try for baby number two — 15 percent of couples experience fertility problems conceiving their second child, according to Parenting. The solution to this problem is to have lots of sex, especially leading up to ovulation (which it sounds like McHugh is already doing). But this means having lots of sex while their kid might be around them.
Although Stamos might be annoyed by his son getting in the way of him making him an older brother, it's clear that Stamos has nothing but love for his son based on everything he has said about him.
Even before Billy's birth, Stamos knew he was beyond ready to be a father. Stamos told Entertainment Tonight in April:
I've waited my whole life for this. I just can't. I'm already so emotional and so excited. I've been dreaming about our baby. I mean, I am really excited.
And it sounds like Stamos is just as excited and ready to be a dad of two — just as soon as he can get some alone time with his wife.