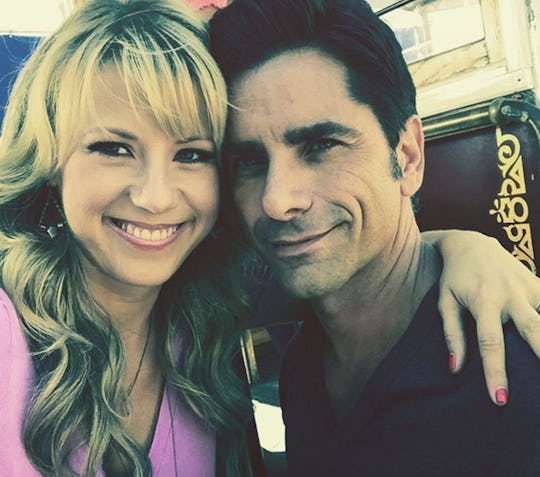 Jodie Sweetin/Instagram
John Stamos & Jodie Sweetin Met Up On The Red Carpet, & It's Getting Everyone Even More Psyched For 'Fuller House'
If you grew up in the 90s, chances are you're beyond excited for the upcoming Full House Netflix reboot, Fuller House. And while we won't actually get to see it until some time in 2016, the constant stream of behind-the-scenes social media updates and cast reunions is almost enough to keep us satisfied. Case in point: John Stamos and Jodie Sweetin posed together on the red carpet at the 2nd Annual Goodwill Gala on Saturday and it was, quite simply, awesome. While Uncle Jesse and Stephanie Tanner may not be quite as adorable now as they once were (oh, who am I kidding, they'll never stop being adorable!) seeing them together brought back all of the feels. I mean, who doesn't remember watching Uncle Jesse move into Stephanie's old, pink-bunny-wallpapered bedroom? Sigh.
But of course, Stamos and Sweetin aren't the only former cast members to have been photographed together lately. On Friday, Ashley Olsen stepped out to support Bob Saget as he performed on Broadway in Hand To God. Could this mean that maybe Michelle Tanner might be making an appearance in Fuller House too? I will never give up hope. I will also never stop finding it amazing when I see any members of the Tanner family together again IRL.
Seriously, how stunning is little Stephanie, all grown up? Here they are again on set together: 
But I've got something for you that's even better than all these red carpet reunions: Basically everything that exists on John Stamos' Instagram. I'm serious; it's a treasure trove of goodness. Stamos is an executive producer on Fuller House, and his social media feeds are full of awesome behind-the-scenes shots with his fellow co-stars, like Lori Loughlin, Candace Cameron-Bure, and Dave Coulier. In fact, following the stars on Instagram is basically the best way to pretend that Aunt Becky and Uncle Jesse are still totally in love, because they completely defined all of your childhood goals for love and marriage. (No? Just me?). 
Behold, This Jessie & Becky Sign
And This Amazingness
Jesse + Becky 4 Eva
And Evidence Of A J&B Starbucks Run — I Just Can't Even
Guys, I have no words. 
Waiting for the first official glimpse of this dream-come-true TV show isn't going to be easy, but at least there's always Instagram and red carpets. And, let's not forget, obsessive Netflix binge-watching of the original series until you actually start saying things like, "you got it, dude!" out loud to other people in real life. (No? Just me again?)
Images: jodiesweetin; johnstamos/Instagram (5); Giphy