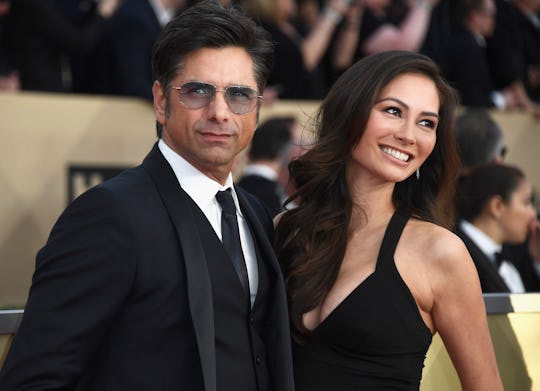 Frazer Harrison/Getty Images Entertainment/Getty Images
John Stamos Kissed His Fiancée's Baby Bump At The SAG Awards & It's So Adorable
Sometimes I forget that the actors I see on TV and in movies are actually real people, so it's always nice to see them behave like real live humans with families and feelings once in a while. For example, John Stamos kissed Caitlin McHugh's baby bump at the 2018 SAG Awards and honestly it was beyond adorable. Sure I was always kind of hoping that one day John Stamos would be my husband, but I guess this is pretty cute too. I'll let her have him I guess.
Stamos currently stars in the reboot of the beloved series Full House, Fuller House, reprising the role of Uncle Jesse. Even at 54, Stamos still looks like he hasn't aged since Full House was first on the air. And though he's got plenty of experience as an uncle, this is the first time he'll be a father. Okay I'll stop with the Full House references now. Stamos and McHugh are now engaged, and expecting their child, whose gender they've decided to keep a secret for the moment. From the looks of this adorable picture on them on the SAG red carpet, they're both super excited about what's to come when their little one is born.
You may recognize McHugh, who's 31, from shows like The Vampire Diaries, which is definitely where I know her from. Stamos spilled all the details about the baby and his new engagement on an episode of The Jess Cagle Interview and in an interview with People, where he admitted that he didn't know if he'd ever have kids because he was starting so late in life, and how even McHugh joked that the time was running out for the two of them to start a family. Stamos also acknowledged what I've been joking about for the past two paragraphs, that he's had plenty of practice dealing with kids on TV.
Apparently, McHugh once suggested that the pair have a baby before getting married and when Stamos asked why, she joked, "Because you're old." Stamos may not be precisely old, but there's no denying that he's starting this whole fatherhood thing a bit later than average. Stamos even said that though he's always wanted to be a father, he would tell people when they asked, "that ship has sailed." Apparently he was wrong. "The [pregnancy] happened. Then I said, I better have a ring on her finger because it's the right thing to do, and I wanted to marry her anyway," Stamos told People. The couple got engaged at Disney World on October 22 after being together for two years.
Stamos and McHugh haven't announced officially what the baby's sex is, or when he or she will be born. So I can't give you any information about that. What I can say, without any doubt, is that these two are objectively two of the most beautiful humans on the planet. So I am pretty sure that their child will be blessed with some preternatural beauty and probably great comedic timing and is it too late to apply to be the child of John Stamos?
The red carpet at the SAG Awards was the first time Stamos and McHugh debuted the baby bump at a public forum like this on the red carpet. This is probably why everybody (well Twitter) was jumping up and down with excitement at the site. After years of watching Full House and Fuller House I know that Stamos will be a great dad. He will probably sing pop songs to his little one to get them to sleep, and maybe Dave Coulier and Bob Saget will come by and harmonize. Just a thought.
Check out Romper's new video series, Romper's Doula Diaries:
Watch full episodes of Romper's Doula Diaries on Facebook Watch.