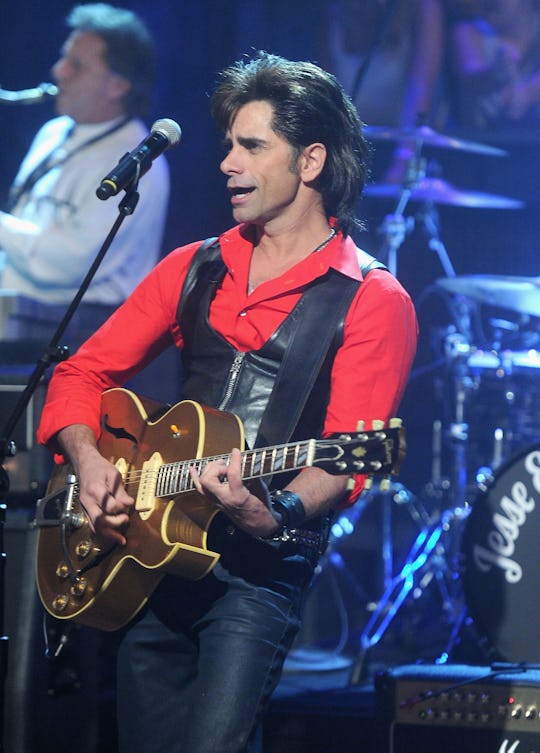 Jamie McCarthy/Getty Images Entertainment/Getty Images
John Stamos' New Photo Of Baby Billy Will Give You The Most Adorable Jesse & The Rippers Vibes
If you grew up in the late 80s or 90s, then you're familiar with the all-time best family sitcom, Full House. Similarly, fans of Full House are likely lifetime fans of one of the show's original stars, John Stamos, who recently became a father for the first time. And now, combining both of those beautiful things, John Stamos shared a new photo of baby Billy and it's giving fans the most adorable Jesse and the Rippers vibes. Because really, one of the best things Stamos has ever done was star on Full House and bless the world with his mullet and Jesse and the Rippers.
While there's a reboot of Full House on Netflix, fans of the original series will forever remember the iconic rock band that came with it, Jesse and the Rippers. Seriously, it'll always be one of the best fake rock bands of all times. So, now that Stamos is a father in real life, and his son has been making regular appearances on his social media, it was really only a matter of time before the 54-year-old papa gave fans some serious nostalgia.
With a seriously cute photo of 3-month-old Billy Stamos uploaded to Instagram featuring the sweet boy in a guitar case, all those prayers for a musical throwback were answered.
"Looks like we got a stowaway," Stamos wrote along with the post, which also featured a sweet little Boomerang of Billy rocking some sweet dance moves while snuggled up in the guitar case. In the photo, fans can see just how much baby Billy takes after his father. In fact, one fan even wrote, "that Elvis lip tho..." on the photo, referencing Stamos' character in Full House, Uncle Jesse, who was a serious Elvis fan and even impersonated the rock star more than once throughout the series.
Stamos is very clearly enjoying his new life as a dad, and while some may find it interesting that the actor and musician waited until he was a little older to have kids, Stamos really wouldn't have it any other way. In fact, just before Billy was born, Stamos opened up to Entertainment Tonight back in April about how much he was looking forward to being a dad. "I've waited my whole life for this," he said. "I just can't. I'm already so emotional and so excited… I've been dreaming about our baby. I mean, I am really excited." Stamos continued, according to Entertainment Tonight , "I'm not nervous at all. I've been not nervous about getting married -- I just knew it was the right thing. I'm not nervous about having a kid, I'm not nervous about having a kid with her."
Stamos and wife Caitlin McHugh welcomed son Billy on April 10, according to People.
Since then, Stamos has been pretty open about Billy and has shared a decent amount of sweet photos of the baby boy. In particular, Stamos' Father's Day post will definitely have you wiping the tears away. In his caption, Stamos spoke about how his life has changed since becoming a dad. "Most importantly, it means that for the rest of my life, I'll always be known as someone's dad," he wrote. "And that's all I ever wanted."
Ugh. It's OK if you need a minute to clean up that puddle on the floor where your heart just melted.
OK, better now? Good, because that's really just the start. Seriously, ever since becoming a husband and a father, Stamos has really opened up his emotions. "It's been beautiful," Stamos told People back in June. "Every second you pray that you can keep the kid alive. Every day is different, time has become very elusive, stuff just goes by so fast. It's just beautiful. I've cried most days; I just stare at him."
And with a baby as cute as Billy, who can conveniently fit in a guitar case, who could blame Stamos for shedding a few tears?