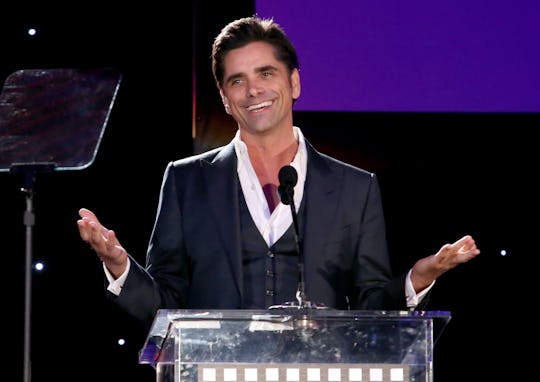 John Stamos' Paper Magazine Cover Is A Serious Half-Naked "Have Mercy" Moment — PHOTO
OK, I officially cannot handle today anymore. I would give up and say "uncle" but considering what's causing my complete inability to function right now — John Stamos' Paper Magazine cover where he appears half-naked — that might be a little awkward. Instead, I'll just say a desperate "have mercy" and I'm probably the millionth person on the Internet to do so. The 52-year-old actor is attempting to follow in Kim Kardashian's footsteps (buttsteps?) and "Break The Internet" like she did with her now-famous Paper cover. Though Stamos doesn't have quite as much junk in his trunk, it...gets the job done. (Do you hear me, Stamos? Your butt is fine. It is perfect. You are great.)
The shoot is part of Paper's #Fandemonium issue and includes a short interview with Stamos (he's not just eye candy!) cleverly titled "The New Moon of John Stamos," in which he admits that when he wants to get attention, he "pose[s] for Paper." Well, it's working.
There does seem to be a new moon rising for John Stamos, or, if I may, a Stamonaissance on the horizon. Here are a few signs he's making a comeback:
Netflix Is Reviving 'Full House'
Which means Uncle Jesse will be back in all of our lives (finally).
'Grandfathered'
Not only is Stamos' returning in the role that made him such a crushable stable decades ago, he's got a brand new show where he's... ya know... still very, very handsome and charming. (I mean, if it ain't broke.)
He Just Filmed 'My Big Fat Greek Wedding 2'
Aiden and Uncle Jesse. In one movie. What a time to be alive.
He Looks Amazing
I mean, he does. Let's just take a moment to appreciate that.
Do I really have to keep listing things? Aren't you convinced?
John Stamos is practically an institution, so it makes sense he was tapped for the #Fandemonium issue. He's got some of the most devoted fans out there, and super fan or not, you've got to admit that his behind looks pretty good. Like, break-the-internet good.
Image: Jesse Grant/Getty Images;Giphy(2)