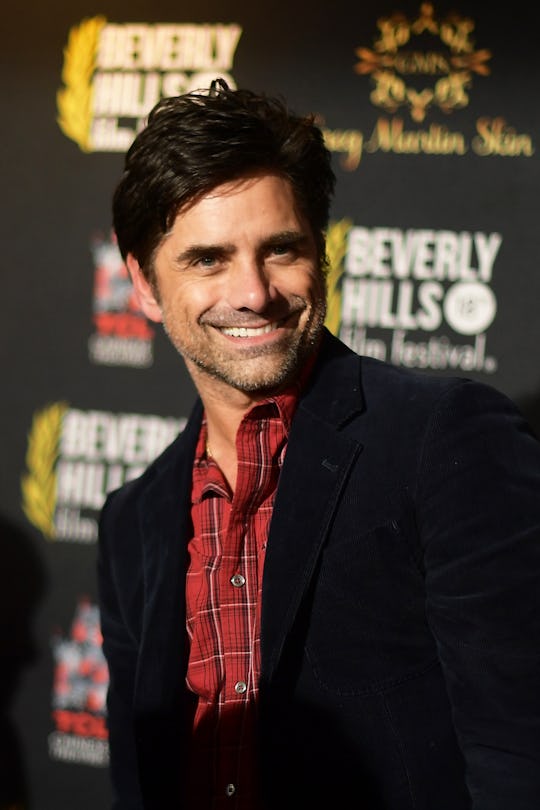 Matt Winkelmeyer/Getty Images Entertainment/Getty Images
John Stamos Welcomed His First Child & His Quotes On Becoming A Dad Will Give You All The Feels
He's not just Uncle Jesse anymore, John Stamos is now officially a dad! The 54-year-old actor, who made bachelor Uncle Jesse famous on Full House, and his fiancé Caitlin McHugh welcomed a baby boy into their lives, announcing the exciting news with a sweet post on Instagram this weekend. And given all of John Stamos' recent quotes on becoming a dad, it's undeniably clear that he's more than ready for fatherhood.
Stamos and McHugh haven't announced their son's birth date yet, but they did release the baby's name in an adorable post on Instagram. The new dad is shown with his newborn son laying on his chest clutching his ring finger. He captioned the sweet black and white shot, "From now on, the best part of me will always be my wife and my son. Welcome Billy Stamos (named after my father) #NotJustanUncleAnymore#Overjoyed."
Stamos might have just become a dad, but he has never been shy about his desire for a family of his own. For example, in 2009, five years after his divorce from Rebecca Romijn — whom he was married to for six years, according to E! News — he told People, "In my book at this point I would still be married and have three kids. So it was more about that plan being foiled than anything. I felt like a failure."
In October 2017, according to Us Weekly, Stamos announced his engagement to McHugh and their pregnancy in December of the same year.
Through it all, Stamos has been consistent with his message on family, and these quotes show he'll be a loving and one-of-a-kind dad to his little boy.
On How Kids & Family Would Fulfill Him
By all measurements, Stamos has an impressive resume. In addition to his iconic role on Full House and Fuller House, his work includes a four-year run on ER and moonlighting as a drummer for the Beach Boys, according to People. But he still feels like leaving a legacy through his children is important for his fulfillment. He told the magazine in 2009:
If I died and didn't have any children. I would feel like, whatever good things I've done in my life, I've accomplished nothing.
Some of that may be attributed to his own close relationships with his parents, who have both passed away, according to Us Weekly. He previously told Entertainment Tonight that he believes McHugh is just the kind of woman his parents would have chosen for him, "I know my parents are smiling down. I know they would love her."
On Waiting His "Whole Life" For This Moment
A few weeks ago, Stamos talked to Entertainment Tonight, telling the outlet, "I've waited my whole life for this. I just can't. I'm already so emotional and so excited... I've been dreaming about our baby. I mean, I am really excited." He confessed in the same interview that there is nothing else he'd rather be doing right now than awaiting the arrival of his first child, explaining:
I don't know what I would do if I wasn't having a baby right now. Like, I've done everything anyone could ever... I've had the most beautiful blessed life on the planet, and the most honest real thing I could do I haven't done.
He does have one concern, according to his interview with Entertainment Tonight though. He and his wife are big Disney fans, according to Us Weekly. He even popped the question to McHugh using a Disney theme. So there could be one issue: "What if the kid comes out and doesn't like Disneyland, doesn't like musical theater?" If that's the biggest problem he has with fatherhood, he'll be doing pretty great.
On Having More Kids
Now that he's 54 years old, Stamos doesn't seem to want to waste any more time. In an interview with People's editor-in-chief Jess Cagle in December 2017, Stamos responded to the question of whether he wants to have more children. "I think so. If she wants to have another kid," he said, referencing McHugh.
Cagle also asked what kind of dad Stamos thinks he'll be and the actor was blunt. "I think I'll be a fun dad. I've been practicing for a long time. I've done every schtick you can do with a baby … on TV. Done every slow Elvis song, done all the bits and jokes and diaper gags. I'll probably just to all that stuff," he said, according to People.
On The Great Example Of Fatherhood He Had From His Own Dad
Stamos celebrated the news of the pregnancy with an homage on Instagram to his father. Posting a photo of himself as a child balancing on his father's hand, he commented that he didn't think he could live up to his dad's example, but he'll get it his best shot. "I will certainly fall short of the father my pop was, but - I'm going to give it my all!" He added the hashtags #BillStamos and #hero.
Fuller House co-star Dave Coulier backed up Stamos' praise and gave him some encouragement, according to Us Weekly. He replied to the post "He inspired you as his son and me as his friend @johnstamos I love you both forever #greatdad #cutitout." On Monday, Coulier congratulated his friend in an interview with People. He told the magazine that this was the right time for Stamos to step into this new role. "For a long time he wasn't ready and I think as life progressed it just became something that he really gravitated toward and it was a natural progression for him. I'm so happy for him. He's going to be an incredible dad."
Stamos is clearly meant to be a dad and hopefully he'll keep on sharing sweet updates about his baby boy with fans.
Check out Romper's new video series, Bearing The Motherload, where disagreeing parents from different sides of an issue sit down with a mediator and talk about how to support (and not judge) each other's parenting perspectives. New episodes air Mondays on Facebook.