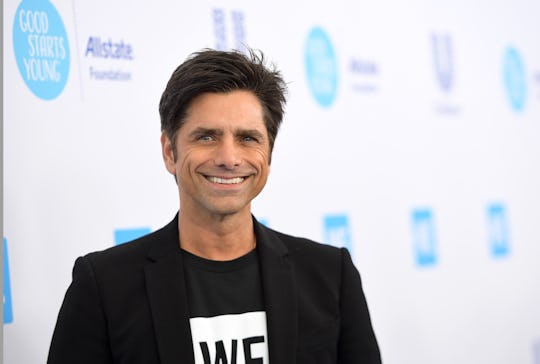 Matt Winkelmeyer/Getty Images Entertainment/Getty Images
John Stamos Is Absolutely Loving Being A Real Dad Now
Everyone's favorite uncle became a dad earlier this year and his sweet sentiments on fatherhood are enough to make you say, "Have mercy!" After decades of acting out various father figure roles on television, John Stamos said being a TV dad affecting his parenting and how he views his time with his child. But unlike the little ones that he parented on screen, his son Billy is all his.
People reported that Stamos and his wife, Caitlin McHugh, welcomed their son, William Christopher Stamos, at 8:32 p.m. on Tuesday, April 10 in Los Angeles. Stamos announced his son's birth in a post on Instagram with a photo of him snuggling the newborn that he captioned, "From now on, the best part of me will always be my wife and my son." Adding the inspiration for his son's name. "Welcome Billy Stamos (named after my father). #NotJustanUncleAnymore #Overjoyed"
Stamos has opened up numerous times about his life as a father. Most recently, he spoke with Entertainment Tonight about the effect of TV parenting on his real life perspective. "I've been on TV with babies forever, he said." "But, and I'm not even making a joke out of this, I have a fear of handing the baby back like someone's gonna yell, 'Cut!' and they are going to take my kid away from me."
But Stamos acknowledged in the same interview that the "great thing" about being a dad is that there is no limit to the time that he gets to spend with Billy. "I was with him all morning this morning and we just sat and played music," he said. He went on to explain that being a dad "is everything" to him and is "giving me life." "I don't know what I would have done without having a baby and a wife right now. I would have fizzled away into the sunset," he told the outlet.
Along with sharing his joy, Stamos told ET that he never expected to become a husband and a father:
I wanted it, but for some reason, I just thought I missed that boat or that I didn't do enough good in the world and it wasn't going to come to me. And I made a real decision to just really find someone that great… and I did, luckily. And we have a beautiful baby boy now. It's better than I ever imagined.
This isn't the first time that Stamos has explained his excitement over fatherhood to the press. Speaking with People, he shared that while it took him some time to become a father, it is all that he expected it to be and more:
I always knew it was going to be like this. It took me longer than it should've, but I knew that I would be a family and be contributing to this country, and holding onto the morals and the values that my parents had, that I like to think of the world having. It's a time to be kind and graceful to people. It just takes so much energy to block all the negativity. I'm really trying to get people together.
In an interview with ET from before Billy was born, Stamos said that he had been waiting his whole life to become a dad:
I don't know what I would do if I wasn't having a baby right now. Like, I've done everything anyone could ever... I've had the most beautiful blessed life on the planet, and the most honest real thing I could do I haven't done.
The new dad has also posted on social media about his life as a father. In a heartfelt tribute post to his own father on Instagram — and baby Billy's namesake — Stamos wrote that he plans to do his best to be like his own father. "I will certainly fall short of the father my pop was, but — I'm going to give it my all!"
Whether he's speaking to the press or writing out his own posts for social media, Stamos makes it very clear that he loves being a dad. And I for one love seeing it!