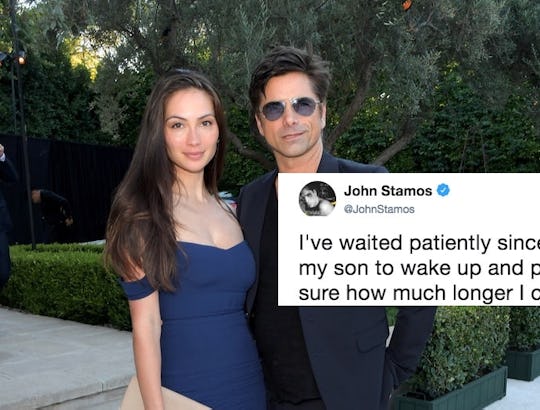 Charley Gallay/Getty Images Entertainment/Getty Images
John Stamos Tried To Wake Up His Sleeping Baby & Well... His Plan "Didn't Work" Out So Well
Move over Uncle Jesse, John Stamos has a new gig — and, it's all about being a doting dad to his newborn son. In his latest social media post, Stamos revealed he tried to wake his sleeping baby and well, his plan "didn't work" out so well. As a new parent, he admits to impatiently waiting for his new little one to wake up just so he can get a snuggle and a good round of play in before the next nap time. And, as any new mom would do, his wife wasn't having any of it.
In a recent tweet, Stamos shared with his followers that he enjoys spending time with his son so much, he can barely wait out the kiddo's sleep schedule. "I've waited patiently since around 5 am for my son to wake up and play with me," Stamos tweeted on Tuesday. "Not sure how much longer I can restrain myself. I may gently tickle his cute little feet. Just letting everyone know."
Ah, baby feet, the downfall of so many parents.
But, as you can imagine, his little plan probably did sit well with his wife. Sure enough, he capped it off with saying, "Well, that didn't work. Got shooed out of the room. Just want some cuddle time. I've waited a looooooooong time for a kid. Hmmm, now what? (thank god my wife isn't on Twitter)."
Stamos recently told People that he, "always wanted to be a dad," but because he hadn't found the right person yet, he thought his time was up. So, it's totally understandable that Stamos just can't wait to play dad, each and every day.
If you're a fan of the iconic and ever-quotable show Friends, this might bring up memories of episode, "The One Where Emma Cries." In it, Phoebe Buffay so accurately states that one should "never wake a sleeping baby," to which Rachel Green replies: "I can do whatever I want. I made her!"
Now, it's possible that Stamos feels just like Rachel as he looks upon his sweet, sleeping son. Heck, the thoughts probably run through most parents' heads from time to time. But, you're asking for trouble if you disturb a sleeping baby while one parent is trying to get some rest. Take a look at these Twitter responses from a few moms who know what's up.
Judging by these tweets, it's safe to say that the consensus is, "don't wake the baby," no matter how much you need a cuddle. Now, the only acceptable reason to wake a sleeping baby, according to the Mayo Clinic, is if your child is underweight and might miss a feeding. Other than that, let a sleeping baby sleep.
Stamos and his wife, Caitlin McHugh, met on the set of Law and Order in 2011, according to the Huff Post. They dated for two years before he popped the question, and then revealed to his fans that they were also expecting, according to Us Weekly. Another reason to love Stamos? He's an old-fashioned, romantic guy who called his future wife's father for his blessing before proposing. Swoon.
They welcomed son William Christopher Stamos, in April of this year. He's named after Stamos' late father, whom they affectionately call Billy, according to CNN.
Just a few days after Billy's birth, Stamos posted this on Instagram. "From now on, the best part of me will always be my wife and my son. Welcome Billy Stamos (named after my father) #NotJustanUncleAnymore #Overjoyed," he wrote.
Like most of the world, Stamos' onscreen niece, Jody Sweetin who continues to plays Stephanie Tanner on Fuller House, remains one of his biggest fans. "I am so thrilled for John and Caitlin!" Sweetin told People. "He's been such an amazing part of my family for over 30 years, and to see him so happy and blessed with a beautiful little boy is wonderful. The entire [Fuller House] family is over the moon..."
Here's hoping that Stamos continues to share his dad moments on social media, even though he'll likely have his hands full shooting the fourth season of Fuller House. Let's just hope, for his sake, that he let's Billy sleep through any of these future photo shoots.