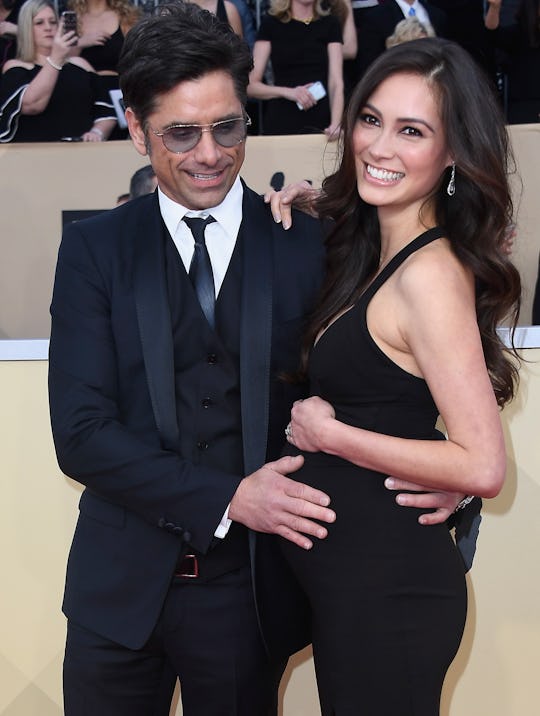 Frazer Harrison/Getty Images Entertainment/Getty Images
John Stamos Welcomed A Son With Caitlin McHugh, & His Announcement Will Def Make You Cry
Uncle Jesse is a now a new dad: on Sunday, Full House star John Stamos welcomed a son with his wife, Caitlin McHugh, according to Us Weekly, and his beautiful Instagram announcement makes it clear that he couldn't possibly be any happier about it. In the post, Stamos shared a black-and-white photo of his newborn son lying on his chest and gripping his finger. But if that weren't already enough to make you shed a tear as much as you did when he sang "Forever" to Aunt Becky on their TV wedding day (swoon), his accompanying caption should do the trick. Stamos wrote, "From now on, the best part of me will always be my wife and my son. Welcome Billy Stamos (named after my father)," followed by the hashtag, #NotJustAnUncleAnymore.
It's definitely been an exciting year for the actor. Not only is he currently executive producing the successful Full House spin-off, Fuller House, which was renewed for a fourth season in January, according to E! News, but he also became both a husband and a father. Stamos and McHugh announced their engagement in Oct. 2017 — he popped the question at Disneyland, according to TODAY — and only two months later, the couple shared that they were also expecting their first child, and in February, according to People, the two tied the knot at Stamos' Beverly Hills home.
As "overjoyed" as Stamos may be to be a dad, fans were also pretty psyched by the news:
But as much as we may have all been waiting eagerly for our favorite TV uncle to become a dad IRL, 54-year-old Stamos admitted to Entertainment Tonight last year that it fatherhood had long been a life goal for him, according to Us Weekly. He said,
[Fatherhood has] taken me a lot longer than I anticipated. It would be a tragedy if I didn't have children and I finally found the right woman — the perfect woman. I know my parents are smiling down. I know they would love her. She's a gentle, kind, graceful soul who would be a good mother.
Stamos and McHugh, an actress and model, started dating in 2016, though Stamos told People that they'd actually met for the first time in 2011, while filming an episode of Law & Order: SVU. They met again when McHugh's roommate appeared in an episode of Fuller House, and Stamos shared that it wasn't long before the couple was talking about having kids. Stamos said, "We have the same morals and the same values, that all clicked nicely. So we said, 'Oh, well, maybe we should have a family.'"
In addition to naming his son after his late father, Stamos honored his dad in an Instagram post in December shortly after announcing the news of McHugh's pregnancy. He shared a photo of his dad, and wrote that though he felt he would "certainly fall short of the father [his] pop was," he was definitely "going to give it [his] all."
And from the sounds of it, he's in the perfect place in his life to make that happen. In Oct. 2017, Stamos told Extra that though he'd long wanted a family, it took a while before he was actually ready. He said,
The truth is I just wasn't the best me and I wasn't going to attract someone like Caitlin. I had to work on myself and put in some time, and I know my mother would have been really happy with that, and this beauty just came into my life. But it took time for me to really be the best person I could be.
As for what kind of dad he thinks he'll actually be? Stamos told People that, actually, his time playing Uncle Jesse actually prepared him pretty well:
I'll be a fun dad. I've been practicing for a long time. I've done every schtick you can do with a baby on TV … all the bits and jokes and diaper gags. I'll probably just do all that stuff.
Fatherhood may have been a long time coming for Stamos, but it sounds like he couldn't be happier. And for those of us who have also looked forward to this day, hopefully this his Instagram birth announcement is only the beginning of many more beautiful family photos to come.
Check out Romper's new video series, Bearing The Motherload, where disagreeing parents from different sides of an issue sit down with a mediator and talk about how to support (and not judge) each other's parenting perspectives. New episodes air Mondays on Facebook.