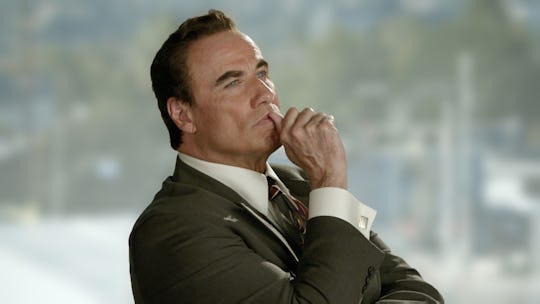 FX
John Travolta's Accent in 'American Crime Story: The People v. OJ Simpson' Was Perfectly On Point
In American Crime Story: The People v. O.J. Simpson, John Travolta was tasked with portraying part of the "Dream Team" — i.e., Robert Shapiro, the first attorney to lead O.J. Simpson's team of lawyers in the trial for Nicole Brown's murder. Travolta, best known for roles in Grease and Pulp Fiction, embodied the character perfectly: He pulled off Shapiro's mannerisms, thick black eyebrows, and confident presence to a tee. Travolta's accent as Shapiro in The People v. O.J. Simpson too works wonders to keep your mind from lumping the show character in with Danny Zuko and Vincent Vega.
In a recent interview on The Late Show With Stephen Colbert, Colbert asked Travolta if he minded playing a real person, rather than a character. Travolta said that, in fact, it was the opposite. "It gives you some sort of a blueprint to work from," he said, according to Yahoo! TV. "I kind of enjoy that."
While Travolta didn't get to meet Shapiro in person, he told Parade that he knew several people who had employed him as a defense lawyer and said he'd watched videos of Shapiro in action. "I'm good at taking on characteristics of people physically, whether it's from dance, or just many years of being an actor, but that's where I excel, so watching him is like, 'Oh, wow! This is interesting. This will be something to do to make this authentic,'" Travolta said. He said he used the same approach in The People v. O.J. Simpson that he did in Primary Colors, when he played Bill Clinton. In a nutshell? "I'm playing him, man, so let me play him."
Early reviews of the first six episodes of ACS claimed that Travolta would be memorable in his Shapiro role, with an Indiewire review reading, "Travolta will certainly draw attention for his physical transformation as well as his unique accent ... as he sells the character internally as much as he does externally." (On Tuesday night, that much was readily apparent.)
Part of Travolta's well-executed vocal impersonation is the slow, confident roll of his speech. Even while asking Simpson (played by Cuba Gooding Jr.) if he committed the crime, Travolta's voice didn't waver or speed up — it was the vocal equivalent of a cool, relaxed posture. Videos of Robert Shapiro show the same confidence, and Travolta captured his peculiar brand of a New Jersey accent impressively well.
American Crime Story: The People v. O.J. Simpson airs Tuesdays at 10 p.m. ET on FX. Travolta is joined by a star-studded cast, including Cuba Gooding Jr., David Schwimmer (Ross, what are you doing here?), Sarah Paulson, and Courtney B. Vance.
Are you ready to jump back two decades? Good — me too.