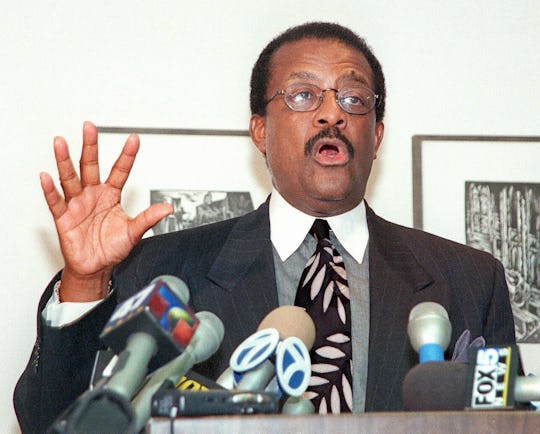 HENNY RAY ABRAMS/AFP/Getty Images
Johnnie Cochran's Alleged History of Domestic Abuse Is Finally Addressed In 'The People v. O.J. Simpson: American Crime Story'
An upcoming episode of The People v. O.J. Simpson: American Crime Story hints at the fact that the late attorney Johnnie Cochran may have had his own history of domestic abuse. (Wait, wasn't O.J. Simpson the one with an alleged history of abuse, not his famous lawyer?) As it turns out, signing on to defend the former NFL star dragged some of Cochran's personal problems into the public eye, most notably Cochran's history of alleged domestic abuse with first wife Barbara Cochran Berry.
Here's a refresher: In 1995, shortly after Cochran joined the "dream team" of lawyers representing Simpson, he sat down with a journalist from The Los Angeles Times for an interview. The journalist, Michael J. Goodman, had obviously done his homework: He found that Berry had filed for divorce from Cochran twice, and that both times, she had claimed that Cochran assaulted her.
According to Goodman, during their first divorce, in May 1967, Berry filed a declaration in an attempt to obtain a restraining order against Cochran. She alleged,
On April 29, 1967, my husband violently pushed me against the wall, held me there and grabbed me by my chin. He has slapped me in the past, torn a dress off me (and) threatened on numerous occasions to beat me up....
The couple — who had two daughters — seemingly called off the divorce in 1967. However, a decade later, Berry filed for divorce again, this time claiming,
During the course of our marriage ... (Cochran has) without any reasonable cause, provocation or justification physically struck, beat and inflicted severe injury up on the person of the Petitioner.
In 1977, Berry was granted the restraining order against Cochran, and the couple divorced.
In that 1995 article, Cochran denied any wrongdoing. He told The Los Angeles Times, "I never, never touched her." He claimed that in both instances, Berry was trying to gain possession of the couple's houses, which a restraining order would help her achieve. "I have never touched her or hit her," he said, "and we are very good friends to this day."
Following the rather explosive interview, however, Berry penned a book called Life After Johnnie Cochran: Why I Left the Sweetest-Talking, Most Successful Black Lawyer in L.A. In the book, she claimed that Cochran had a second family with his mistress, Patricia Sikora. Berry also claimed that Cochran had physically abused Berry three times throughout their marriage.
In the book, Berry alleged that Cochran used his money to manipulate women. She wrote, according to the New York Times, "This need of women for money and security were tools to be used in their control, to keep them in their place." But Cochran also denied those claims, according to the Times:
This is ridiculous. My poor dear ex-wife — it is not true. She saw a chance to write a book and to try to make some money.
Tiffany Cochran, one of Berry and Cochran's two daughters, told People in 1995 that the abuse charges came as a shock. "My father is not a violent man," she said. Berry, however, told People: "Sometimes things can go on in marriages that children never see."
Whatever the case, the possible real-life parallels between Cochran's life and O.J. Simpson's could add a dynamic twist to American Crime Story — for better or worse.