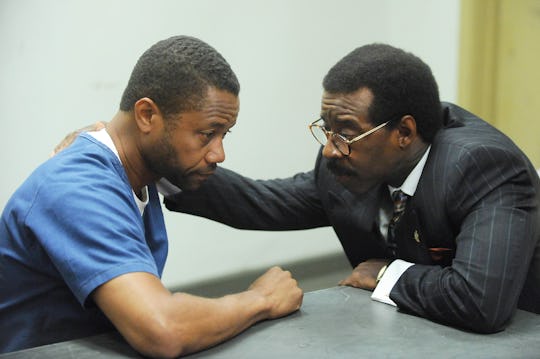 Byron Cohen/FX
Johnnie Cochran's Pep Talk To O.J. Simpson In 'American Crime Story' Will Be Courtney B. Vance's Crowning Moment
This week's episode of The People v. O.J. Simpson: American Crime Story centered on the beginnings of what would eventually grow to be known as one of the century's most riveting cases. Throughout, the FX team ornately wove together each major player's backstory, finally giving viewers a taste of how each moment leading up to it coalesced into the perfect storm: A murder case involving racial tensions, sex scandals, and peculiar supporting characters to boot. Of course, not everything in episode four was done by the book, and some of the best moments grew out of the FX team's fictionalized additions, one of the best of which was attorney Johnnie Cochran's pep talk to Simpson while the ex-NFL star was sitting in jail — a scene that will likely be one of actor Courtney B. Vance's crowning achievements in the months to come.
The scene begins with Cochran and Simpson (played by Cuba Gooding Jr.) sitting together in the prison's visitation room. After Simpson explains to the attorney the troubles he's been having remaining positive about the trial ("Everybody thinks I'm guilty," Simpson tells Cochran at one point), Cochran delivers a bold few words of advice, as only Cochran could (here, Vance's star power seems to really shine).
"So change their minds," Cochran urges, before launching into full-on motivational speaker mode:
Have you forgotten who you are? These walls around you don't change that. Do you know what you mean to people? Okay. Then let me tell you what we were once, to me.
1978. Just left private practice, goin' back to the L.A. DA (District Attorney). Was going to be the first black assistant attorney in office — change things from the inside. But shit. Same old shit, same rigged system. Feeling powerless for the first time in my life... And then, my first marriage blows up in my face. My children won't talk to me, I'm a failure at work, I'm a failure at home. I was down, brother. I was way down.
[That Sunday], sittin' on my bed, surrounded by dead-end paperwork, divorce lawyer bills, drinkin' beer — alright, maybe a little bit too much beer — feeling sorry for myself. Watching the football game all alone. Crappy TV. 49ers versus the Falcons. And what I saw you do that day, on that field, somehow as I was watching, it became as if you were running for me. You were driving up that field, crowded with adversity and obstacles — gettin' knocked on your ass and then poppin' right back up again.
See that's what I wanted to do ... back home with my troubles there, but couldn't. But you—you. You. You willed what you needed to do then with nothing but grace.
After Simpson recalls that he had scored a touchdown that day, Cochran continues to rally. "You did," he says. "And when they cut away to the commercial, there you were again: Leaping through the airport for Hertz — breaking another barrier with charisma, intelligence. A black man as the public face for one of the world's biggest corporations."
Simpson then adds that the team lost the game in question, but Cochran reasserts, "I don't remember that — I remember everything else about that game. ... And when the game was over, I jumped off that bed, and jogged the six blocks back to my office and got back to work — and I haven't stopped or wallowed in self pity since that day."
The moment was a moving, albeit fictionalized one, as far as anyone can tell. But that didn't stop social media from clamoring over Vance's epic delivery.
"I know I say this every week," wrote one Twitter user. "But Courtney B. Vance is freaking INSPIRED on [American Crime Story]." Added another viewer, "Courtney B. Vance is playin' the hell outta that role." One fan went so far as to call Vance's performance "mesmerizing" — which certainly wasn't wrong, given the Hunt for Red October and Law & Order: Criminal Intent alum's masterful execution.
Whether or not the American Crime Story role truly ends up garnering Vance a nomination at the Emmy's, as fans have suggested, is still up for debate. Although, after tonight's episode, it would certainly be a travesty if it didn't.