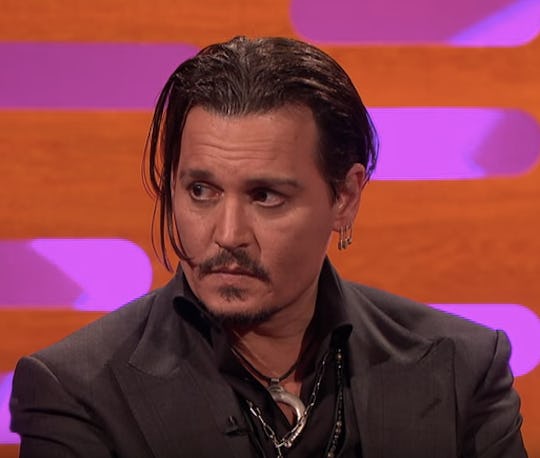 BBC/YouTube
Johnny Depp Says His Daughter's Illness Inspired Him To Help Other Sick Kids, & The Story Is Truly Touching
On the Graham Norton Show Friday, the usually private Johnny Depp opened up about his daughter's illness, in a candid and emotional interview. While speaking with Norton, Depp shared just how life-changing the experience was, eventually inspiring him to help other sick children and their parents. Though the actor rarely talks about it, Depp's daughter Lily-Rose Depp was hospitalized back in 2007 at Great Ormond St. Hospital with a serious case of E. coli. Earlier this month, Depp spoke about the experience to the Daily Mail, as well. "They told us her kidneys had shut down and that she would be lucky to survive," the actor shared. "For nine days we sat by her bed, and refused to move until she began to pull through." He called it the darkest period in his life.
That experience, he added to Norton Friday, was actually what catapulted him into visiting children's hospitals in character as Jack Sparrow. "I've always kind of done these visits," Depp said, "but after that, the visits became more and more important. Because the kids — bless them — you know, they're so strong, they're so courageous. But the parents are the ones who are slowly dying. And to be able to bring a smile or a giggle to these people is — it means everything in the world to me."
Catch the full interview below:
And if you want to see Depp in action, visiting a children's hospital as Jack Sparrow, watch the vid below of him stopping by Children's Hospital Australia. Just a warning, though, the video is totally not safe for work — unless you're OK with bawling at your desk. Claim your allergies are acting up and get your heart warmed by the video below:
Depp has been busy working on the fifth Pirates of the Caribbean movie, Dead Men Tell No Tales, starring Depp, Orlando Bloom, Javier Bardem, and Kaya Scodelario. It's not out until 2017, though, so get your Depp fix by watching more of his appearances until then.