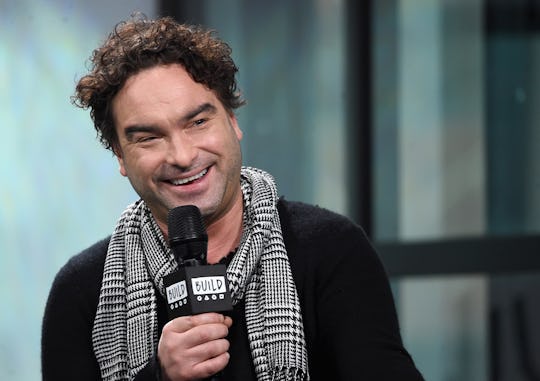 Jamie McCarthy/Getty Images Entertainment/Getty Images
Johnny Galecki May Have Responded To 'Roseanne's Cancellation With A Subtle, But Telling Post
In the wake of a racist tweet from Roseanne Barr that led to the cancellation of her ABC show, one of the sitcom's original co-stars appears to be making his own statement about the controversy. On Wednesday, Johnny Galecki possibly responded to Roseanne being cancelled with a subtle, but telling photo and brief caption on Instagram that says it all.
The controversy began earlier this week when Barr allegedly posted a racist now-deleted tweet about former Obama staffer Valerie Jarrett. "Muslim brotherhood & planet of the apes had a baby=vj," the tweet reportedly read, according to The New York Times. Though she has since deleted the tweet, and posted tweets apologizing to Jarrett as well as anyone else she offended, the damage was already done.
As Variety reported, ABC president Channing Dungy said in response, "Roseanne's Twitter statement is abhorrent, repugnant and inconsistent with our values, and we have decided to cancel her show." Romper's requests for comment from Barr's representative regarding the controversy and the show's cancellation were not immediately returned.
Though some of the show's co-stars immediately spoke out against Barr, Galecki — who played David on the sitcom — has remained quiet thus far. Perhaps he was thinking of the best way to make a statement in the immediate aftermath. And though he has not specifically addressed Barr's hateful tweets, it looks he quietly approached the controversy with a somewhat cryptic photo. But it's a photo that says so much, depicting a human face made up of many races, along with a simple caption of one single red heart emoji.
Reactions to Galecki's Instagram post have been strong and mixed. The vast majority of responses to his photo have been supportive of the statement of the photo makes about diversity and unity. "No words needed...perfect😢" one fan commented. However, others voiced their anger about the show's cancellation and some called on Galecki to be stronger in his condemnation. "Don't post cryptic messages. Use your words. Silence is complicity," one follower commented. Romper's request for comment from Galecki's representative was not immediately returned.
In the hours following the cancellation, several of the show's stars spoke out against Barr's tweet. Sara Gilbert, who played Darlene on the show, tweeted that she was disappointed by Barr's comments, calling them "abhorrent" and saying they were not representative of the cast and crew.
Michael Fishman, who played the Conners' son DJ on Roseanne, also condemned Barr's comment and called for everyone to stand up against bias, hatred, and bigotry.
Laurie Metcalf, who played Roseanne's sister Jackie on the show, has not made a public statement and John Goodman — who played Roseanne's husband, Dan Conner — has chosen to stay out of the controversy. "It's not that I disrespect you guys. I would rather say nothing than cause more trouble," he told Entertainment Tonight, according to ABC News. He also told Entertainment Tonight that he'd avoided news about the incident. "I don't know anything about it. I don't read it," he said, according to Entertainment Tonight.
The two stars may be distancing themselves because of the reactions they've seen from Barr toward her co-stars who have spoken out. For example, she responded to Fishman's statement by saying he was throwing her "under the bus," and simply wrote, "Wow! unreal," in response to Gilbert's tweet. Barr has not yet responded to Galecki's Instagram post.
Though he has not specifically said this in response to Roseanne getting cancelled, it certainly seems like Galecki found a quiet, personal way to make a strong statement against racism. As a leading cast member of The Big Bang Theory, it's hard to imagine his star climbing any higher in the entertainment world, but that's not really what this post is about anyway. It's his way of showing his humanity, something arguably more important and relevant than any Hollywood legacy.