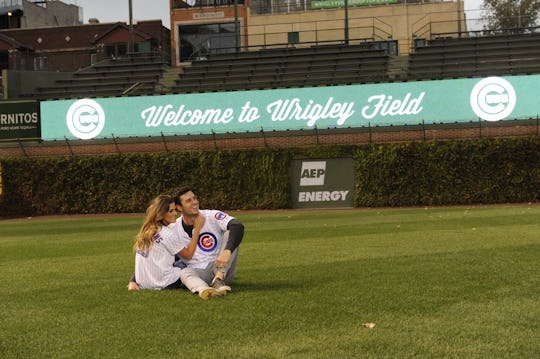 Jean Whiteside/ABC
JoJo Brings Up Ben On 'The Bachelorette' & It's Clearly Something She Thinks About
We first got to know current Bachelorette JoJo Fletcher when she ended up as Ben Higgins' number two on The Bachelor. We all saw how heartbroken she was when he didn't give her that final rose, and it has clearly left a deep impression on her, because she won't stop talking about it. JoJo can't stop bringing up Ben, even on her dates with the other guys. I'm not even the one on the date and I'm starting to feel a little insecure.
JoJo recovering from her heartbreak after the last season of The Bachelor has been JoJo's arc for a while now. From the beginning, we've watched her reward the guys that opened up immediately, and reject those guys who played their cards a little too close to the vest. In fact, we could even say that this is why she ended up sending Luke home. The other guys had all enthusiastically told her they loved her, while Luke was a little more reserved. She also continuously explains that her feelings of betrayal after Ben told her he loved her and then dumped her is the reason she hasn't told any of the three hunks left that she loves them.
Her experiences with Ben seem to have a huge effect on how she feels about both Jordan and Robby. While both of them have told her how deeply they care for her, there is something inside of her that is still a little mistrustful. As much as she says, "I trust him" she still can't stop saying things starting with phrase, "In my last relationship..." Because Ben told her he loved her, but it just wasn't enough, JoJo seems to be having a hard time believing Robby and Jordan when they say they love her.
Quite frankly, she may be right not to trust them. Before the season even aired rumors swirled about both of them about girlfriends they'd cheated on, or left behind in order to be cast on The Bachelorette. Some of the nastier rumors suggest that Jordan is literally only looking for fame, and has been involved in some pretty shady dating app dealings since the show wrapped. JoJo might blame it on her last relationship, but it might be time for her to start trusting her gut, because it has nothing to do with Ben.