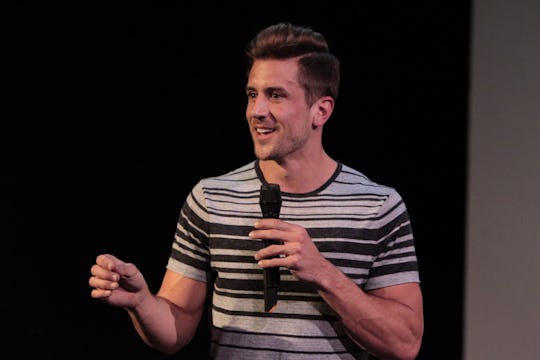 ABC/Rick Rowell
JoJo Confronts Jordan About His Ex On 'The Bachelorette' & It Gets Serious
On Monday night's episode of The Bachelorette it becomes clear quickly that Jordan is a front runner. Jordan Rodgers is a former NFL quarterback and front-runner; from previous football-themed group dates, it's evident that JoJo was into him. JoJo grants him (yet another) solo date on their first night on their trip to Uruguay, but the conversation turns to his past. JoJo confronts Jordan about his ex-girlfriend and how he's treated women, and it becomes a pretty serious conversation.
From the start of the episode Jordan sought out JoJo's attention. While he had a rose before the night's ceremony, he took the lead and made-out with her while the other contestants were sitting around. Much to the chagrin of the others, JoJo then picked Jordan for a one-on-one date. Some believed he's not there for the right reasons and is playing JoJo. While the date starts out romantic like their others, JoJo soon brought up similar concerns, as well as something he definitely did not want to discuss: his ex-girlfriend, Brittany.
During this season's premiere, Brittany called Jordan out and said he allegedly cheated on her. She spoke to both show producers and JoJo. He also has had a history of flirting with other women while in a relationship. On Monday night's episode, JoJo finally confronted him about this.
JoJo asked Jordan straight up if he cheated – and he replied "no." He then proceeded to mansplain a bit and said he did not "physically" cheat. Jordan turned the conversation to how he feels himself falling for JoJo. Not only that, but he brought up comments his pastor told him when he was young about how you should not say you love someone unless you expect to marry them – and he knew he was not going to marry his ex-girlfriend.
This was all very questionable, but Jordan ended by saying he "knows what kind of man he is now and knows he's not a cheater." JoJo confirmed to us that Jordan was her favorite because she accepted this explanation and offered him a rose. Afterwards, they went off and found a mariachi band playing and kissed among the music.
JoJo said the date was "pure magic." It's evident that he is one of JoJo's top choices if not the top choice at this point. Should she trust him as much as she does? Is this really the "start of the most perfect love story" like she says? It's unclear as of now, but we do know Jordan's not going anywhere soon.