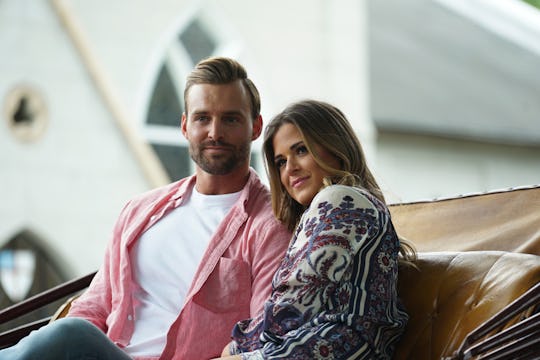 Michael LeGrand/ABC
JoJo Is Falling In Love With Robby On 'The Bachelorette' & She Broke The News Surprisingly
Robby has the honor of getting the most dramatic hometown visit of the four guys left on this season of The Bachelorette, but, we also learned a surprising tidbit right before things took a quick turn: JoJo is falling in love with Robby on The Bachelorette. And she revealed the news in a slick, surprising move.
After dining with Robby's very attractive family, JoJo got some alone time with Robby's mom (and wine). Even though she hasn't said I love you to anyone yet this season, JoJo revealed to Robby's mom that she was falling in love with him. She made clear that she hadn't told anyone else that yet, so Mama Hayes would know to keep it on the DL. But it's a cool twist to drop the "I love you" on mom before a contestant!
JoJo confessed that the reason she wanted to break the news to Robby's mom was because he had been the first guy in the group to say he was falling in love with her and she appreciated his vulnerability. Especially since JoJo is stuck with a bunch of guys playing it close to the vest this season, she expressed what a relief it was to have someone in her dating pool who was so open and honest about his emotions. So JoJo wanted to pay it forward by reassuring Robby's mom that she was falling for him.
"I am certainly falling in love with him," JoJo dished. "I haven't told anybody that! No one knows this. I want you to know that because I feel very strongly for him, and to be honest, I went into this date not being sure if I was falling in love with him...but I feel really good about him. I do."
Of course, JoJo revealed that she was falling in love right before a disappointing twist: Robby's mom found out that his ex's roommate had been spreading rumors that he dumped his girlfriend to be on the show. Robby immediately relayed this information to JoJo, and it played on her existing insecurities about whether Robby was truly over his last relationship. But he reaffirmed how he felt about her, and she seemed to trust him in the moment. So, for now at least, JoJo still seems to be on board with Robby.