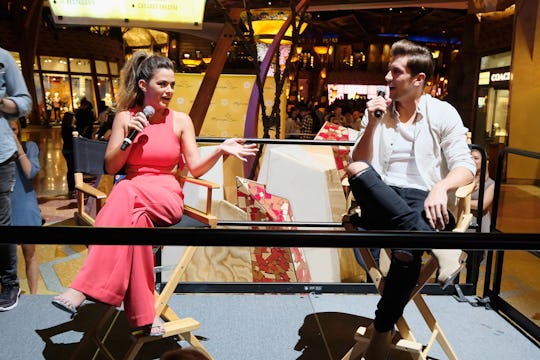 Dimitrios Kambouris/Getty Images Entertainment/Getty Images
JoJo & Jordan Open To TV Wedding Which Is Bachelor Nation Heaven
If you don't think that JoJo Fletcher and Jordan Rodgers are just the cutest couple this side of Snapchat, we can't be friends. OK, fine, we can be friends, but you're going to have to be OK with me getting very, very pumped up about the fact that JoJo and Jordan want a TV wedding. And be open to bringing snacks and wine over for the televised love-fest. Deal? Seriously, though JoJo and Jordan (I mean, the alliteration alone makes my heart go all a-flutter) are going strong. Not only was it totally a given that they would end up together at the end of season TK of The Bachelorette this year, they still seem to like each other. Sure, there are tons of other Bachelor Nation couples that have braved the tough world of televised courtship and tabloid features, but these two are like little mini salt and pepper shakers.
They just go together. This week, at an appearance at the Mohegan Sun, the couple made their rounds and repeated that a television wedding is something they are "definitely" considering. They said the same to Entertainment Tonight last month. Right now though, the two seem to be enjoying the dating part of a relationship, so it might be a while before we get to see them tie the knot on the small screen.
According to The Daily Mail, JoJo said, "right now we're just really enjoying being together." She added, "You know, it's funny, we got to be together on the show, but we haven't really dated. So this has been such a fun time to move into our first home together, and to go on dates."
Rodgers added, "We're exploring our area in Dallas, [having] date nights. [We're finding] restaurants that we like." Like those fake restaurants on the Bachelorette stage weren't good enough? JoJo said she likes being "normal." "Going through normal life together, going through hard times, good times, just normalcy is really amazing. We're enjoying it and having a blast," she said.
A televised wedding is not all that normal, but it would be cute. Right now, Ben Higgins and Lauren Bushnell are starring in their own spinoff, Ben and Lauren: Happily Ever After, but some early reviews say that it looks like the couple might be doomed. So let's all cross our fingers that doesn't happen to JoJo and Jordan, who are keeping the early stages of their relationship on the (semi) private side.
Fans will be fine with a solid two-hour wedding special, ABC. Just please don't invite Chad.