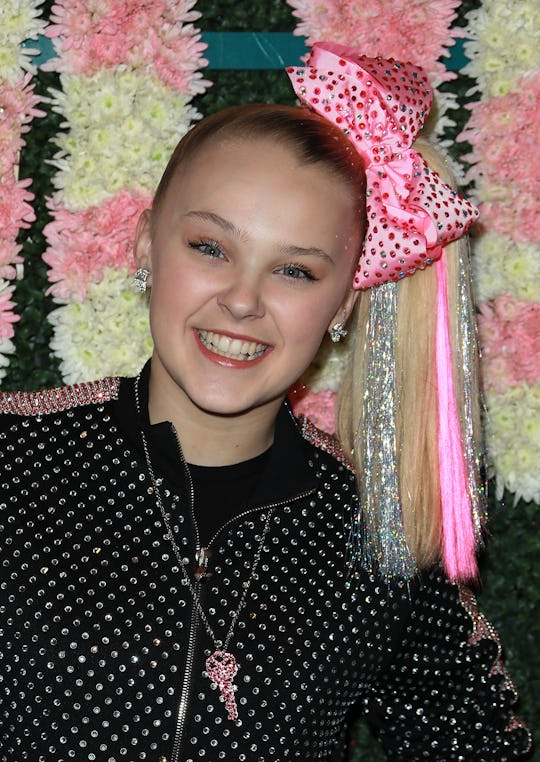 JC Olivera/Getty Images Entertainment/Getty Images
JoJo Siwa Is Going On Tour, So Get Your Bow Ready
Ahhh, the holidays. Time to relax, time to celebrate, time to figure out what the heck to do with the kids with absolutely no daycare or school in session! Well, you'll have at least one excursion booked now that the news has broken that JoJo Siwa is going on tour, and the tickets will be on sale just in time for the winter break.
Siwa will also release a four-song EP in conjunction with her first national tour with tickets going on sale Nov. 16, the same day her new tunes will become available from 200 digital service providers, as Billboard reported.
The tour portion of the teen's new project, dubbed Nickelodeon's JoJo Siwa D.R.E.A.M. The Tour, will send the rainbow-bowed singer and dancer to 25 North American cities, including Los Angeles, Seattle, Denver, New York, and Atlanta.
Meanwhile, members of Siwa's e-mail fan club will have access to presale tickets a bit early, Nov. 13, according to a press release, and purchasers of VIP tickets will have opportunities for such fringe benefits as limited edition merchandise, as her fan site explained. American Express card members will also have the option of buying tickets before the general public, beginning on Nov. 14.
Dance Moms alum Siwa, meanwhile, who is now 15, according to Billboard, has already released the title video from the collection on YouTube.
"I'm so excited to see my fans and to perform my music live," Siwa enthused in a Nickelodeon press release about the upcoming kickoff. "It's going to be amazing and epic and I have so many surprises in store for everyone."
Things seem to be coming up roses for Siwa who, after developing a preference for hair bows as a young child, turned her style into a multimillion-dollar company with merchandise at Claire's, according to CelebrityNetWorth.com, which reported that her "Jojo's Bows" line helped created a net worth of $8 million.
The site added that the star boasts about 7 million followers on Instagram and 6.7 million subscribers on YouTube. No wonder your kids want to see this show... the girl is absolutely everywhere.
And while most kids can only fantasize about what they might want to do when they grow up, it sounds like Siwa's already living her exact dream. For example, she told Australia's Sydney Morning Herald newspaper, "I would love to be a pop star [when I grow up]! I think going on tour, having lots of songs and music videos would be super cool."
Not that Siwa sounds like the type to get down in the mouth having already achieved her dream. As she added: "I have more books, TV shows, music, everything! It's going to be a great year!
Another cool thing about Siwa is her pro-social, pro-kindness message. Having been teased herself as a youngster and then having received negative comments on social media, as she told J-14 magazine, she decided she would take on a serious mission: To stop all bullying.
"It's a very hard goal," she said. "But, what I want is to tell people who are getting bullied to stand up to the bully and not let it be OK — tell a teacher, the principal or your parents. I want people to stand up and to be confident."
This entertainer has some big ideas about things, and I love it. It may be a responsibility for a young person, but Siwa seems to thrive on being a role model. "I don't think that people don't succeed," she added to the Sydney Morning Herald when asked about why some people make it on YouTube and some people don't. "I think that it takes time! Everyone will have their time to shine!"
Agreed, JoJo, and now it's yours with a big, huge tour.
Tickets for JoJo Siwa's tour will go on sale Nov. 16 here.