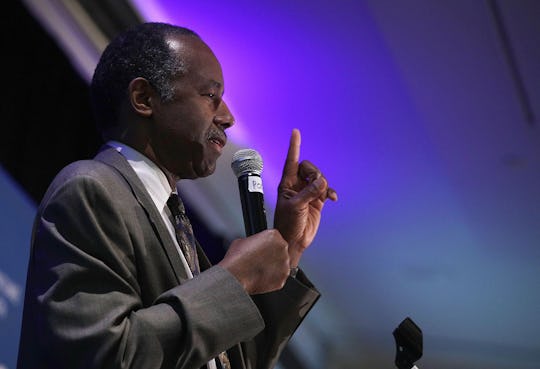 Alex Wong/Getty Images News/Getty Images
Jokes About Ben Carson Being Stuck In An Elevator
Let's be honest: as far as politicians go, Housing and Urban Development Secretary Ben Carson is a pretty easy target for some good-natured online ribbing. I mean, yes, he's a retired neurosurgeon, and yes, that is a pretty big endorsement of his intelligence and skill. But the truth is, when Carson opens his mouth to speak, no one really ever knows if the words coming out will actually make sense. Carson's gaffes are pretty entertaining, but the jokes about Ben Carson being stuck in an elevator are the latest in social media gold.
According to The Washington Post, Carson found himself stuck in an elevator at the Courtside Family Apartments affordable housing complex in Miami on Wednesday, as part of a two-day "listening tour" in the area meant to give Carson an opportunity to learn about the challenges low-income people face finding affordable housing. It was also a way for Carson to follow up on his confirmation pledge to "gather the best ideas from around the country," while also filling in the gaps of his own expertise, since he had virtually no prior experience in housing or development, according to NBC News.
According to The Miami Herald, Carson was stuck in the elevator alongside Miami-Dade County Public Housing Director Michael Liu, and a number of others after the doors jammed coming down from the roof. The group was stuck for about 15 minutes, according to NBC News, before they were eventually freed by Miami-Dade fire rescue. Former Miami Heat player Alonzo Mourning was waiting outside the elevator for Carson, as the two were meant to tour the facilities together. Mourning's non-profit group partnered with Miami's Housing Trust to build the affordable housing complex, according to The Washington Post.
Thankfully, no one was injured in the elevator mishap, but it did, of course, lead to some perfectly entertaining tweets — most of which, let's be honest, focused on the fact that, well, Carson isn't exactly the most likeable guy:
Then there were the tweets the seemed to suggest that maybe it was all a karmic retribution:
And then, well, you know:
For Carson's part, the incident didn't actually seem to bother him much. Following the meeting, he tweeted about the "great meeting" he had with Mourning, and also gave a shout out for the Miami Police Department and the City of Miami Fire Department (aka, the people who helped him escape the elevator).
Of course, getting stuck in an elevator can actually be pretty scary, and it's certainly not something I'd like to experience any time soon. But at a time when so many headlines feel sad and dark and heavy, being able to have a laugh at Ben Carson being stuck in an elevator at an affordable housing complex feels pretty damn good.