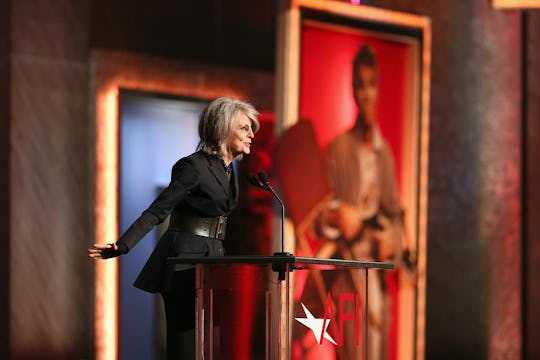 Christopher Polk/Getty Images for Turner Image
Jokes About Diane Keaton On The Vanity Fair Cover Prove That People Still Love Her Unique Sense Of Style
Vanity Fair just released its 2016 Hollywood Portfolio, and fans are digging Annie Leibovitz' photographic celebration of leading ladies. There's certainly a lot of talent on the cover, but the real standout is famed actress Diane Keaton of Annie Hall fame, who was relegated to the corner of the image — but still managed to catch everyone's eye anyway. And though jokes about Keaton on the Vanity Fair cover are making the rounds on Twitter, it's virtually impossible not to fall in love with her total willingness to stand out.
The Hollywood Portfolio provides a powerful visual reminder of how many stunningly talented women grace the silver screen in 2016. Journalist James Wolcott wrote that Keaton earned a spot in the ensemble for her extraordinary acting chops and comedic sensibility — in his words, "Keaton didn't re-invent the contemporary rom-com, but it couldn't have been re-invented without her."
Jessica Diehl, Vanity Fair's fashion and style director, opted to put a modern spin on the LBD when she dressed each actress for the shoot, with two exceptions, according to Vanity Fair writer Rachel Tashjian. "One sequin pantsuit for Jane Fonda," Tashjian explained, "and Diane Keaton in one of her trademark ensembles, looking like a Mad Hatter dressed for high tea at the Savoy."
Keaton, of course, is well known for her quirky fashion sense. In an interview last May, she told Refinery29 that her desire to stand out started early. "[Since I was young,] I [have] loved people who dressed unusually," she recalled. "I remember I was the first girl in high school to have a polka-dot black dress, from fabric that my mother, and I found from a different dress at the Goodwill. And, I had pierced ears. I did all those things; I was the alternative way to go."
Keaton ended up with a career in the spotlight, but it didn't dissuade her from being true to herself. She revealed in a 2013 interview with PEOPLE that she doesn't take style too seriously. "I like fashion because it's kind of playtime," she said. "I don't think about it a lot – I'll just go in there and try something. I like picking and choosing. It's the editor in me."
PEOPLE reported that Keaton's fashion faves included suits, gloves, and hats. On the Vanity Fair cover, she appears to rock all three. Of course, not everyone loves the layered look, so when the photograph went up online, the internet decided to have a little fun at the cover's expense:
Though some people poked fun at Keaton's fashion choice, there were plenty as well who recognized her for the beautiful badass she is:
There's nothing more fabulous than someone who knows who she is and has the confidence to own it. Diane Keaton's cover look is a spectacular reminder that beauty is always found in a strong, self-assured woman.