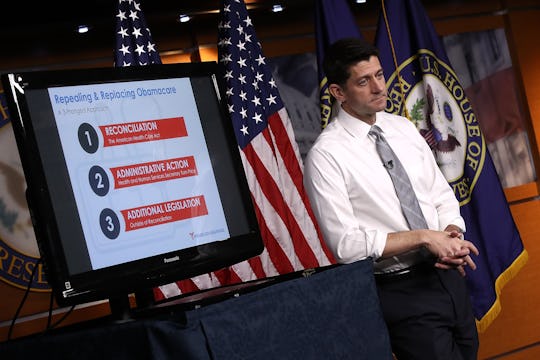 Win McNamee/Getty Images News/Getty Images
Paul Ryan Used PowerPoint To Talk About Healthcare
On Thursday, House Speaker Paul Ryan gave a presentation about the Trump Administration's healthcare replacement plan. Ryan explained how the new plan will be implemented to replace the Affordable Care Act. But the main story, really, is that people immediately flocked to social media to make fun of Ryan's presentation. Here are some of the funniest jokes about Paul Ryan's PowerPoint presentation.
The Hill reported that the presentation covered the Trump Administration's three-part plan to install the American Health Care Act. The first phase involves Republicans passing the healthcare bill using the budget reconciliation process, which means the bill will impact the federal budget. The Trump Administration wants to use the reconciliation process so the health bill can be passed by a 51-majority vote instead of a 60-majority vote, Vox reported.
The second phase involves deregulating the marketplace and lowering costs, which will fall into Secretary of Health and Human Services Tom Price's hands, The Hill reported.
The third phase involves passing legislation, such as the ability to sell health insurance across state lines, which can't be done through the reconciliation. If that sounds complicated and technical, apparently Ryan's presentation didn't help matters. People across social media had a field day when Ryan appeared on cable with a television monitor and began clicking away. Here are some great reactions on Twitter to Ryan's PowerPoint presentation:
My absolute favorite, though? This one.
Personally, I'm still waiting for a Tweet asking which intern Ryan asked to make his slideshow. In all seriousness though, Ryan has a tough road ahead of him trying to get people on board with the American Health Care Act. The bill has received criticism from Democrats and Republicans alike, Fortune reported. That's because the plan only provides a flat rate for people to purchase insurance: and the rate is not based on income, but is instead based on age. People under 30 would get $2,000 a year to buy insurance, while those over 60 would only receive $4,000 a year.
According to the Kaiser Family Foundation, older and low-income people already receive larger tax benefits under the Affordable Care Act than they would under the new American Health Care Act. And after 2019, the plan won't allow federal funding for new people applying for Medicaid who weren't already receiving Medicaid, Business Insider reported.
Meanwhile, some Republicans had a problem with the 30-percent premium penalty people will face if they seek out insurance after being uninsured, Fortune reported. (How will that help the number of uninsured people go down, if they fear paying even more because of their uninsured status?) Medical organizations such as the American Hospital Association and AARP have also spoken out against the plan.
So amid all of the criticism, it makes sense that Professor Ryan giving a presentation to convince people that this new health plan rocks wouldn't be well-received. The smallest comfort in all of this is that, although your new health plan may cost you more while you get less out of it, Twitter will always be ready with a few jokes to lighten your mood.