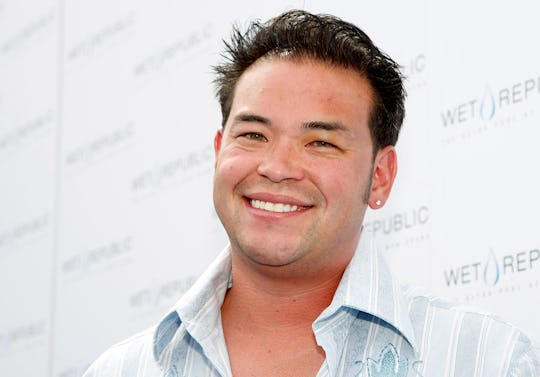 Ethan Miller/Getty Images Entertainment/Getty Images
Jon Gosselin Shared This Sweet Back-To-School Photo Of Hannah, But It's Left Some Fans Confused
If you're like me, then you remember the "good old days" of Jon & Kate Plus 8 — back when times were simpler. In 2007, Jon and Kate Gosselin introduced the world to their eight children: twins Cara and Mady, and sextuplets Alexis, Hannah, Leah, Aaden, Collin, and Joel. Viewers instantly fell in love with their adorable, busy brood. After a few seasons, though, things started to get messy when Jon and Kate ended up divorcing in 2009. Nearly a decade later, how things are within the Gosselin family still spark questions from fans. In fact, Jon Gosselin's photo of Hannah's first day of school, without her siblings, has done just that.
On Monday, the single dad took to Instagram to share a sweet shot of Hannah's first day of eighth grade, as E! News reported. The photo is of Hannah smiling while standing on what's presumably Jon's front porch. Jon captioned his post with, "Congrats Hannah on your first day of school, proud of you. I admire your bravery starting fresh!!! I Love you very much and we have worked really hard to get here. Dedication has really paid off. I'm so happy you integrated yourself into the community, you made friends all summer and now you will grow and graduate with them."
He concluded the post, "I'm honored to be your father!!! Love you, Dad #newbeginnings."
Many of Jon's followers were quick to comment on how happy Hannah seems in the photo, and to wish her good luck on the upcoming school year. "She looks so happy! 😊," one fan wrote. Another commented, "Hannah looks so relaxed and Happy..."
Others were clearly surprised that the photo seems to indicate that Hannah is apparently living with Jon, as In Touch Weekly reported, and away from her siblings. One such fan asked, "She's living with you now?"
Although the specifics of the current custody arrangement weren't made clear in Jon's post, his ongoing battle with Kate has continued to make headlines in recent years. Back in May 2015, Us Weekly reported that Jon sought full custody of only Hannah. However, in an Instagram live video on Aug. 20, as reported by Hollywood Life, Jon told followers that Hannah "permanently" lives with him. Meanwhile, a source then told People the very next day that Kate still maintains full custody of all eight children.
In case you missed it, Kate had also posted a back-to-school photo of her own just last week, as Entertainment Tonight reported. "This was yesterday!" Kate captioned the shot of 17-year-old twins Mady and Cara, and four of her 14-year-old sextuplets, Aaden, Alexis, Leah, and Joel. "Feels like school never ended... and they're already back! #SeniorYear 😳😳 #EighthGrade #ProudMom ❤."
Fans likely expected Collin to be absent from this photo, since he continues to be enrolled in a full-time, special needs program away from home, as People reported.
It's difficult to say for sure what the technical custody arrangement is right now, as far as Hannah Gosselin is concerned. Perhaps Kate really does have custody, and she's merely honoring Hannah's wishes to live with her father for the time being? Maybe the reports of Kate having full custody were inaccurate, and Jon and Kate actually have shared custody now?
As a child of daughter of divorced parents, I know all too well that living arrangements (and changes to them) can be stressful and touchy. Whatever the details are concerning Hannah's living situation, what's important is that she's happy and feels loved. And the smile on her face in her back-to-school photo sure seems to indicate that. Have a great school year, Hannah!