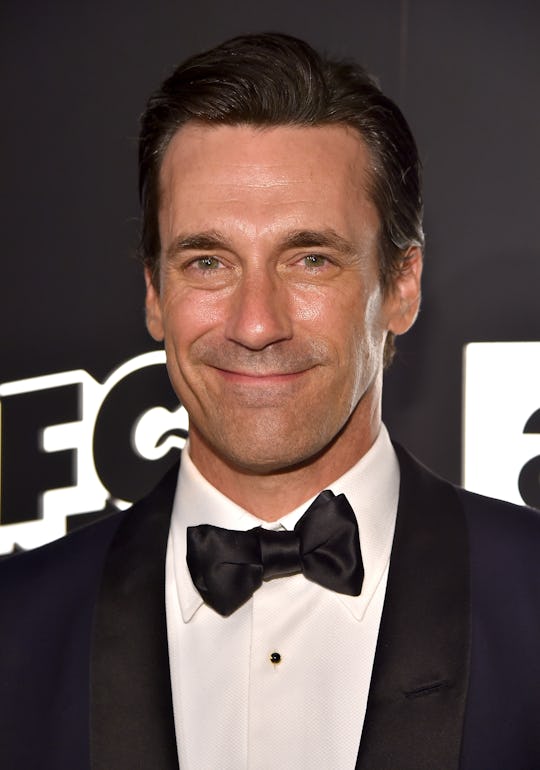 Jon Hamm Was Nominated For A Golden Globe Award, Proving Something Is Right With The World
We might've all got what we waited a Mad Men lifetime for when Jon Hamm finally took home an Emmy for his performance as Don Draper, but now that awards season is once again in full bloom, the rest of us are wondering: Will Hamm have the chance to win again? The answer arrived early December 10 when the HFPA announced that Jon Hamm is nominated for a 2016 Golden Globe. The actor finished his last season as ad man Don Draper on Mad Men; the show aired its final episode in May.
Hamm's had a tricky history with the Globes. After Mad Men premiered in 2007, Hamm won Best Performance by an Actor in a Television Series — Drama. That was followed by nominations in 2009, 2010, and 2011, but Gabriel Byrne (In Treatment), Michael C. Hall (Dexter), and Steve Buscemi (Boardwalk Empire) were the winners, respectively, besting Hamm for the award and kicking-off a campaign to get Hamm back into the winner's circle. Hamm was snubbed completely in 2012 (Kelsey Grammer got the award for Boss), then ended up back on the ballot in 2013 (losing to Homeland's Damian Lewis). For the past two years, Hamm didn't make the cut for nominations; Bryan Cranston (Breaking Bad) and Kevin Spacey (House of Cards) emerged victorious in 2014 and 2015, respectively.
Before winning an Emmy last year, Hamm was the most-nominated drama lead to never take home an Emmy. His win, following the finale of the show, was a picture-perfect conclusion not even Don Draper could have constructed better. Taking the stage shortly after his win, Hamm said:
There has been a terrible mistake, clearly,. Thank you for that. This is impossible. It's impossible to be named with all of those extraordinary gentlemen. It's impossible to be standing here, up here. It's impossible to have done this show with this incredible cast, these incredible people, these incredible writers, our incredible crew.
A bit of good news arrived a day ahead of the Golden Globes nominations, however: Hamm was nominated for a Screen Actors Guild Award, in the category for Outstanding Performance by a Male Actor in a Drama Series. He's up against Peter Dinklage (Game of Thrones), Rami Malek (Mr. Robot), Bob Odenkirk (Better Call Saul), and Kevin Spacey (House of Cards). Hamm has a second shot at a SAG Award: Mad Men is also up for Outstanding Performance by an Ensemble in a Drama Series (competing with Downton Abbey, Game of Thrones, Homeland, and House of Cards). While the drama category has always been a deeply competitive category with stellar acting and superb writing, Mad Men and Hamm have on their side the fact that their show is no longer running.
Though Hamm isn't exactly a social-media wunderkind, fans were quick to tweet about his nomination following the HFPA's announcement this morning:
Image: Mike Windle/Getty Images for AMC Networks