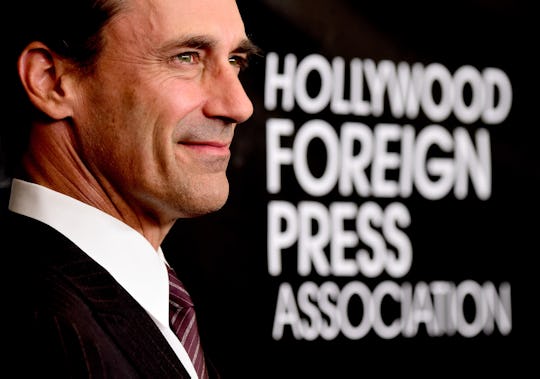 Jon Hamm Wins 2016 Golden Globe For 'Mad Men' & The Internet Is Rejoicing
The 73rd annual Golden Globe Awards marked the last and final Globes cycle for AMC's hit Mad Men series. Jon Hamm snagged the only nomination for the show and on Jan. 10 when nominations were first announced, and on Sunday, Jon Hamm won the Globe for Best Actor in a Television Series — Drama. The win marked his second for his role as Don Draper. Hamm first one a Golden Globe in 2008, and earned nominations in 2009, 2010, 2011, and 2013 for the same category though he was ultimately bested by other nominees.
The win marks the perfect end to Don Draper and the entire Sterling, Cooper, Draper, Pryce family's story, especially considering the somewhat awkward and definitely confusing Mad Men finale. The show, which aired for seven seasons on AMC, won the Primetime Emmy Award for Outstanding Drama Series four times over its seven-year run, and in 2012, set an Emmy record for highest number of nominations earned without ever actually winning (17 noms, for anyone who wasn't keeping track).
During his acceptance speech, Jon Hamm thanked the network, the series creator, and although many hoped he'd thank his estranged partner, Jennifer Westfeldt, the actor left complete mention of Westfeldt and their dog Cora out of his acceptance speech, only further breaking the Internet's heart.
His win, however, did spark some much-beloved response from Twitter:
Here's hoping he blesses our lives with some new projects soon so we don't have to see a Hamm-less award stage anytime in the near future.
Image: Frazer Harrison/Getty Images