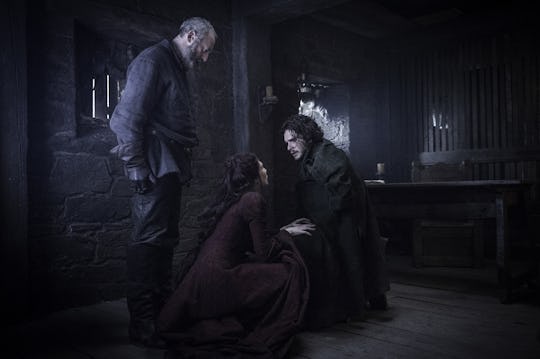 Helen Sloan/HBO
Jon & Sansa Reunite On 'Game Of Thrones' & It Was A Long Time Coming
After being separated for so long and losing just about every person they loved, Jon and Sansa reunited on Game of Thrones. It was a welcome relief not just for the characters but for the audience too – it's become a rare thing to see Jon and Sansa so happy. It was the first time they had seen each other since parting ways back in Season 1, and the reunion was well worth the wait – though I wouldn't have turned it down a season or two ago.
Sansa and Jon were all smiles as they rehashed older, better times and apologized for being bratty (Sansa) and being moody (Jon). However, things took a turn for the heated once they began to discuss the future. Jon is definitely leaving Castle Black and he's planning on bringing Sansa with him; the question is where they're going to go. Sansa wants to go home to Winterfell and fight the Boltons, taking back their birthright from those that stole it. The problem is that Jon (still pretty freshly stabbed, mind you) is reeling from the violence of his last few years. He's tired of fighting. The two are at an impasse.
Fans have seen Sansa suffer season after season, so seeing her stand up for herself and what she deserves is pretty fantastic. Now that she finally has at least one member of her family behind her, she feels strong enough to strike back at the man who not only took her home, but trapped and abused her within its walls. Ramsay has hurt Sansa in just about every way possible and it's more than understandable that she wants her revenge. Jon doesn't know everything Sansa has been through while they were apart, and the same could be said for Sansa. They need to have a long talk before they move forward because neither of them fully understands where the other is coming from. I'm sure once Jon hears firsthand about everything Ramsay has done, he's suddenly going to feel like fighting again.
The good thing is that Jon and Sansa are together now. Any problems they have can be tackled together. Optimism is a dangerous feeling to have when watching Game of Thrones but one can't help feeling it seeing Jon and Sansa together after such a long time. If anyone has earned a little bit of a break on this show, it's those two.