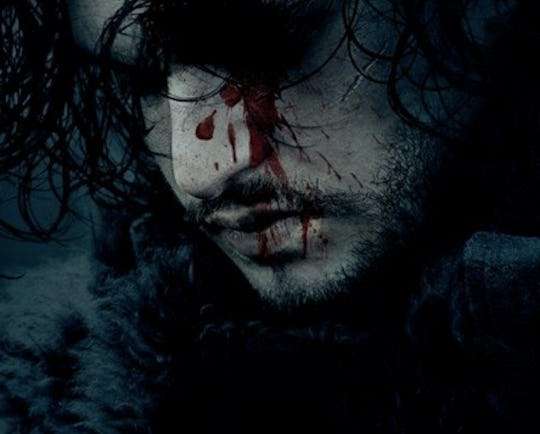 HBO
Jon Snow Is Alive, New 'GOT' Promo Reveals, & Fans Are (Understandably) Freaking Out
Ever since Jon Snow was stabbed about ten thousand times by his very own Night's Watch compatriots during the Season 5 finale last June, Game Of Thrones fans have been experiencing the many, many stages of grief that have come along with it. Still, there were plenty of those who held out hope — especially amidst news that the actor who plays Snow, Kit Harington, was spotted on the Game of Thrones set in Belfast in September. And today, hope has proved its power: A Season 6 promo image reveals that Game of Thrones' Jon Snow is alive after all. Yes, you heard me right; and yes, you can start freaking out right... about... now.
The image of Snow was tweeted by HBO Monday morning, and it's basically just a huge picture of his bloodied (but very much alive) face. The only word accompanying the image? APRIL — which of course serves to heighten the anticipation fans will be feeling for the many months leading up to the Season 6 premiere. And just in case you want the quick math on that, I have done it for you: We'll be waiting 5 long months until we learn more. Five agonizingly painful months. Sigh. But hey, until then, at least HBO has given us all something to hang on to. This one small image may seem like just that — but in the end, it says so much. (It's also unleashed a flood of fan theories all over the Twitterverse.)
As you might expect, fans are responding with appropriate levels of enthusiasm. There's this person, who immediately resorted to expletives:
And this person, who feels their emotions are best expressed via cat photo (which I can't argue with):
Or how about this awesome individual, who came through with a truly amazing Buffy The Vampire Slayer analogy:
As for the specifics of how Jon Snow managed to possibly survive what looked like Definitely Fatal stab wounds, we'll need to wait until the season 6 premiere in April. Until then, we can settle back and continue our hero worship of Jon Snow. He may not be God, but he definitely has supernaturally good hair.
Image: HBO