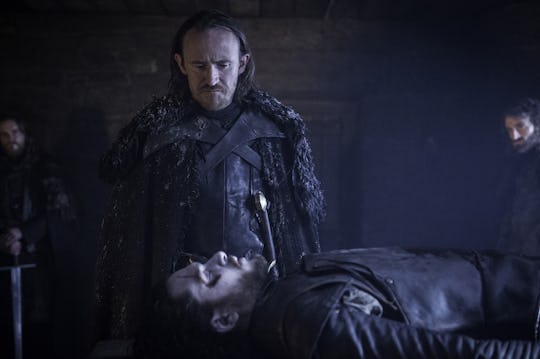 Helen Sloan/HBO
Jon Snow Memes Prove 'Game Of Thrones' Fans Are Dedicated To The Show
It seems the popular Game of Thrones saying, "Valar morghulis (All men must die)," needs to be changed. Something along the lines of "All men must die but then can come back to life if they're Jon Snow," would be more accurate. After almost a year of speculation and denials from the actors, writers, and directors on Game of Thrones, Jon Snow has been resurrected thanks to Melisandre and her Lord of Light.
Although Melisandre didn't believe she could actually do it, having lost almost all her faith in her visions and god, Davos, convinces her to just give it a try. Melisandre then gets to work on the ritual, cleaning Jon Snow and cutting off his hair, while saying some kind of prayer or chant. Honestly, it's a little unclear what exactly it was she did but all the same it at first seemed like it didn't work.
After waiting a moment, Melisandre, Davos, and everyone else left the room feeling defeated. In an attempt to psyche us all out it wasn't until the absolute last second of the episode that Jon wakes up, taking a big gasp of air. And thus, he lives!
Fans are still recovering from the shock, many now praising Melisandre and changing religions to follow the Lord of Light. Here's just some of the most hilarious reactions.