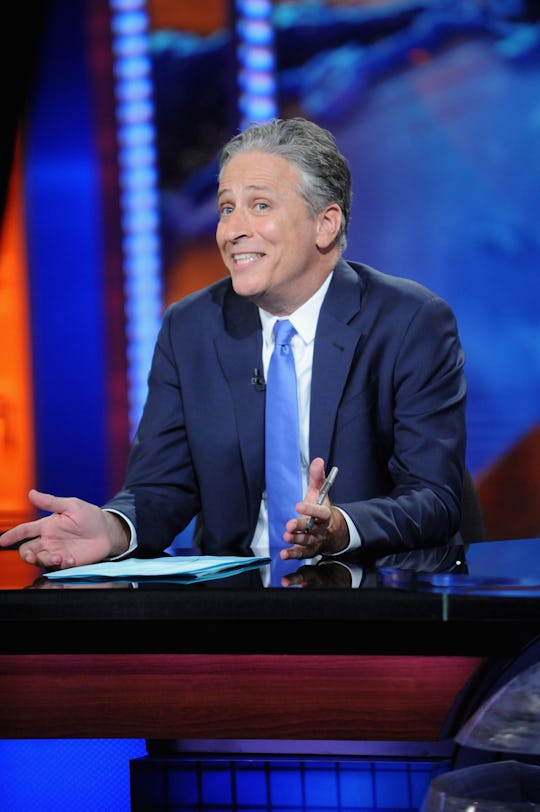 Getty Images
Jon Stewart Doesn't Want His 'Daily Show' Gig Back, He Wants Money For 9/11 First Responders
Monday night's episode of Comedy Central's most beloved late night show was epic, and not just because former host Jon Stewart appeared on the Daily Show and told current host Trevor Noah that he most definitely doesn't want his job back. "Trust me, a thousand times no," Stewart said. Stewart was on to talk about the James Zadroga 9/11 Health and Compensation Act, which is set to expire next year. Stewart has been a longtime advocate of the bill that gives financial support and healthcare to 9/11 responders and their families. It's kind of a big deal. Stewart assembled a gathered a panel of first responders on the show back in 2010 to inspire viewers to push push politicians to pass the original bill. It worked. Now that it's set to expire, he's trying to do the right thing again.
The problem? There are a lot of politicians who aren't into renewing the funding. And this is why we need Jon Stewart: to invade their offices in a hoodie. Stewart wasn't so much a guest on Monday night's show but a correspondent for the Daily Show, pulling the old moves, like Samantha Bee. A few cameras, one comedian, and some political jokes. Stewart stormed Capitol Hill and tried to get appointments with the likes of Rep. Rand Paul and Sen. Rob Portman, who so far had resisted supporting the funding. Of course, they didn't even offer him a coffee (at least, not that we saw), let alone a meeting.
It was old school Daily Show style and you know Jon Stewart means it because the show dedicated an entire episode (except for a very good bit about the media raiding the San Bernardino attackers' apartment) to let him lobby for its passing. After airing footage of his ill-fated attempts to storm the politicians' offices, he reassembled the same panel of first responders that he did in 2010.
Only one guy could make it, because, according to the one who attended, two others wer too sick to attend, and the fourth passed away. Stewart asked viewers to write to Senate Majority Leader Mitch McConnell, who Stewart said is holding up the funding.
Twitter loved it:
Even if you miss him as a host, Jon Stewart might even be more powerful — and effective — as a correspondent who cares. Can we get him a weekly contract?
Image: Brad Barket/Getty Images